Phil Goff not sold on Auckland test cricket venue
Author

Publish Date

Wed, 25 Apr 2018, 6:16PM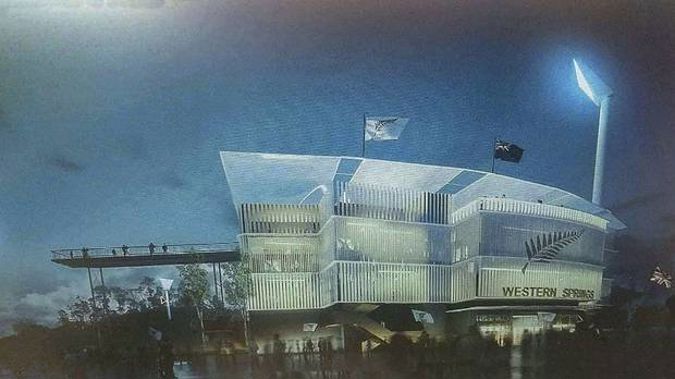 Phil Goff not sold on Auckland test cricket venue
Author

Publish Date

Wed, 25 Apr 2018, 6:16PM
Advanced plans for a $40 million national cricket ground at Western Springs in Auckland are in serious doubt after Mayor Phil Goff signalled funding for the project is unlikely.
The Herald has obtained images of the cricket ground showing a four-level stadium, floodlights and different configurations for cricket, rugby, athletics and AFL matches.
The images are part of a draft "commercial in confidence" process to find a builder after a tender went out in January for architectural designs to transform the venue.
The project is planned by Regional Facilities Auckland, which wants to move speedway to Waikaraka Park in Onehunga and repurpose Western Springs into a test cricket oval with more sports, concerts and festivals.
Goff told the Herald a world-class cricket stadium would be a great asset for Auckland, "but it is not a priority" for the cash-strapped council.
"Unprecedented population growth has placed significant pressure on our city and we must prioritise our spending to provide infrastructure needed for transport, housing and a clean environment," he said.
Regional Facilities chief executive Chris Brooks said the council body had $12m for the project and is seeking a further $27m from the council's new 10-year budget.
A mayoral source said: "Asking for that sort of money is not a good idea. I would be incredibly surprised if they get that."
What's more, in a "Letter of Expectation" to Regional Facilities chairman Sir Don McKinnon in January, Goff said the council body could continue to develop a stadium strategy, but there should be no significant changes to stadiums until the future of Eden Park and a national stadium proposal in Auckland is clearer.
Proposed image of the National Cricket Ground at Western Springs in Auckland.
Moving speedway to Onehunga and building a national cricket ground is part of Auckland's ongoing stadium jigsaw that began in 2012 and come unstuck at every turn.
The original plan was to move the Warriors to Eden Park, which would become the home all of big rugby, league and soccer matches. A subsequent attempt to move the Warriors to QBE Stadium in Albany antagonised the league club, who successfully fought to stay at Mt Smart.
Now it is the turn of speedway, which is fighting an attempt by Regional Facilities to move its from its home of 89 years at Western Springs to Waikaraka Park.
"We have elected to hunker down and stay where we are," said Speedway promoter Greg Mosen, who acknowledges Regional Facilities Auckland "have a right to kick us out" when a venue hire agreement ends next year.
Speedway has hired the public relations firm Sherson Willis to lobby councillors. Mosen is confident of "resounding support" to leave Western Springs alone and rethink the stadium strategy.
Aerial picture - Western Springs speedway track, Auckland.
Regional Facilities has told Speedway its lease at Western Springs will end next summer. The motorsport has known since 2012 that it would have to move.
Brooks said the idea to move to Waikaraka Park came from speedway and it had been working with it and stock cars to upgrade the park at a cost of $10m paid by Regional Facilities.
"The real benefit for the sport is the opportunity to run 35 events a year, compared to what they currently have at Western Springs, and the opportunity of the sport to grow," he said.
Speedway is restricted to 12 race nights and two practice sessions per year at Western Springs.
Western Springs is an important recreation space for Auckland, Regional Facilities director of the venue development strategy Paul Nisbet said.
It was zoned as a major recreation facility, not a motorsport precinct, in the Auckland Unitary Plan in 2015, he said.
Speedway racing at Western Springs.
"Waikaraka Park will become home for motorsport and Western Springs will be freed up to meet the increased demands from a rapidly growing population for sports, recreation and entertainment opportunities. That's a very good outcome for the city," Nisbet said.
Mosen said speedway had been at Western Springs for nearly 90 years and attracted 102,000 fans over the most recent summer season, half of whom attend every event.
Western Springs is family friendly, priced well and everyone is having a good time, he said.
The question over where to play cricket tests in Auckland has plagued the city's sporting landscape for years.
New Zealand Cricket is currently committed to Eden Park, where the country's inaugural day-night test against England was held last month.
Auckland Cricket prefers to stick with the status quo where, as an original owner of the Eden Park site, it has a number of guarantees.