Passchendaele: 100 years on Kiwi's remember New Zealand's 'darkest day'
Author

Publish Date

Thu, 12 Oct 2017, 3:00PM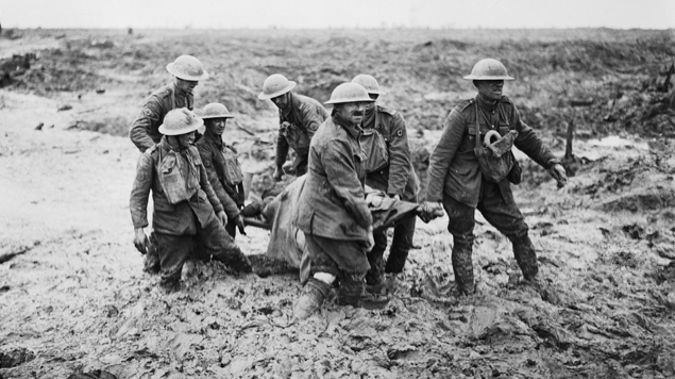 Passchendaele: 100 years on Kiwi's remember New Zealand's 'darkest day'
Author

Publish Date

Thu, 12 Oct 2017, 3:00PM
Freedom isn't free.
Those were the words hundreds of gatherers heard on the Field of Remembrance at the Auckland War Memorial Museum as the 100th anniversary of the Battle of Passchendaele was commemorated.
Many people around the country have attended ceremonies to commemorate the 100 year anniversary of the battle of Passchendaele.
Described as New Zealand's darkest day, 846 New Zealand soldiers were killed over a four hour period.
Vice Chair of the Fields of Remembrance Graham Gibson said it was humbling to stand in front of the crosses commemorating the fallen soldiers.
Mr Gibson said a thought goes out to families too, especially the mothers.
"The 682 mothers that lost two sons, 39 mothers that lost three sons and the five mothers that lost four sons...that is the price you pay for freedom."
In Christchurch Returned Servicemen have been allowed into the red zone around the ChristChurch Cathedral this afternoon, to reach their cenotaph.
A small group in hi-vis vests and hard hats laid a wreath to mark the occasion.
The memorial had been inaccessible since the quakes, when the damaged Cathedral and part of the Square was fenced off.
Today is only the second time the RSA's been allowed to visit the cenotaph since.
Commemorations have also been getting underway in Belgium where Dave Dobbyn has performed at a sunset ceremony at Belgium's Menin Gate Memorial.
He said it's a moving ceremony at a moving location, marking a very important date.
"It's a pretty amazing gate on the walls of which are 54,000 names of British and commonwealth troops, so it's pretty moving."
He also described the Battle of Passchendaele as a tragedy we too often forget.
Dobbyn said New Zealanders often forget just how deadly this campaign was.
"Passchendaele has been somewhat overlooked both in New Zealand and other parts of the commonwealth, because of the fame and infamy of Gallipoli."