Paraplegic reunited with wheelchair after nightmare 48 hours
Author

Section

Publish Date

Thursday, 28 December 2017, 5:01PM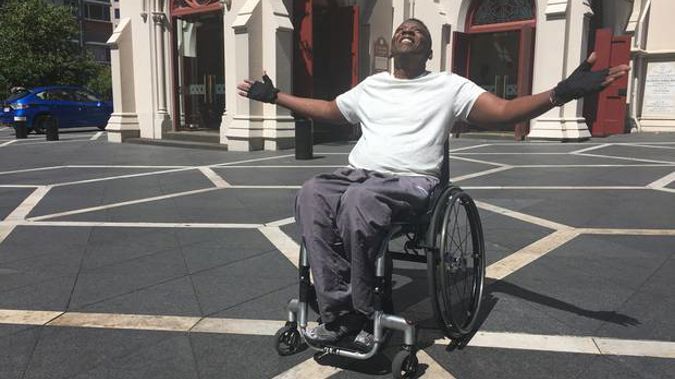 A happy ending has been reached for paraplegic Silice Karito whose wheelchair was lost during his travels between London and New Zealand.
The Herald earlier reported that Karito arrived at Auckland Airport on Boxing Day to find his specialised wheelchair had not completed the journey after a layover in Dubai.
Due to the lack of appropriate mobility equipment, Karito had been stuck in his central Auckland hotel room for 48 hours and had been provided with little information on when his chair might arrive in New Zealand.
A resolution was reached this afternoon when a staff member for Menzies Aviation, which provides airport services, contacted Karito to say his wheelchair had arrived in the country.
Emirates spokesman Robert Wallace also confirmed the wheelchair had been located.
"Mr Karito should be reunited with it any minute," he said. "He should have it any time now depending on how long it takes to get to him from the airport."
Wallace could not comment on why it had taken two days for the chair to arrive in New Zealand, stating he couldn't comment until he spoke to Dubai International Airport.
Karito told the Herald he was relieved to get his wheelchair back.
"I have felt a bit straight-jacketed the past 48 hours.
"It was not the best start to an expensive trip but I am just excited to get my chair back.
"The main thing is I have my mobility back which makes all the difference," he said.
"It feels really good. I feel like I have been wearing diving boots and now I have my trainers back on so I am mega happy."
Despite being reunited with his wheelchair, Karito was still appalled by the lack of responsibility taken by Emirates airline.
"We haven't heard anything from Emirates. They have been totally terrible in all of this and ultimately it is their responsibility.
"They have been in the background and left it to other people, but at least it is coming."
He said the airline hadn't offered to refund extra costs incurred due to the incident, such as cancellation fees for pre-booked transport and accommodation.
Karito is on holiday with family friend Fiona McManus and her two daughters. The group is due to go to Kohukohu in Northland tomorrow.
Since the Herald's initial article many readers have contacted the newspaper to offer their support to Karito and the use of private wheelchairs.
Karito was shocked to hear of the public's support, "I would like to thank all those people that have offered chairs and that. I am very appreciative," he said.
Karito was paralysed from the chest down after a work accident just over 30 years ago.
His wheelchair, which cost around NZ$5000, is specially made for his needs, is lightweight and collapsible so he can easily get around independently.
The group plan to be in New Zealand until January 10.