Panel: Base of Edgecumbe floodwall faulty
Author

Section

Publish Date

Tuesday, 3 October 2017, 6:48PM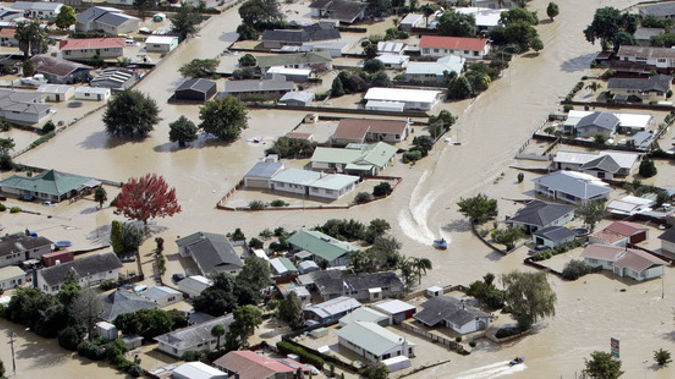 The poorly laid foundations of a stopbank protecting Edgecumbe from floodwaters and the failure to build planned upgrades are likely at fault for a breach that flooded the town, an independent review has found.

The Bay of Plenty town was flooded and its residents evacuated earlier this year when the Rangitaiki River breached a stopbank.

The river's floodwaters were fast-moving and deep, destroying 15 homes and significantly damaging 250 others.

Heading the panel, Sir Michael Cullen said a number of factors contributed to the build up of pressure on the stopbank.

"These included the way in which the foundation material may have been placed prior to the construction of the first wall in 1973 (and) damage to the wall foundations during the 1987 earthquake," he said.

"Finally, it seems likely that the concrete pad laid in 2012 adjacent to the concrete wall increased the build up of pressure which led to the initial failure."

Moves to release water from the Matinha Dam did reduce flood levels downstream but it is unlikely that the release of further waters would have prevented the breach in the stop bank, the panel found.

However, the panel was concerned that the Reid's Floodway and Spillway flood prevention works were not completed, believing if this upgrade had been completed it could have substantially diverted water away from Edgecumbe.

This reduced pressure on the floodwall may have prevented its failure, the panel found.

However, Sir Michael said the original designs for these upgrades are not "optimal" and it was not a "matter of urgency to agree" on improved designs and then to build them.

"The panel is concerned that there has been insufficient attention paid to the risks faced by the Edgecumbe community particularly while the Rangitaiki River Scheme was being upgraded or to planning for evacuation in the case of overtopping or stopbank failure," he said.

He said "for whatever reasons" many Edgecumbe residents were not sufficiently aware of the risks of flooding to the town.

The panel has provided detailed recommendations to the Council to improve current flood hazard management planning and the geotechnical elements of the scheme as well as advice on sustainable flood risk management solutions in the long term.

"I am confident that the findings of this review will provide the community the answers they need and our recommendations will help reduce the risk of this happening in the future," Sir Michael said.