Over 120k vaccine doses in NZ on Super Saturday
Author

Publish Date

Sat, 16 Oct 2021, 11:47AM
Over 120k vaccine doses in NZ on Super Saturday
Author

Publish Date

Sat, 16 Oct 2021, 11:47AM
Kiwis smashed the government's 'Super Saturday' goal of administering 100,000 vaccine doses, reaching the target by 3pm on Saturday.
Following the milestone, Prime Minister Jacinda Ardern set an ambitious new goal of hitting 150,000 doses by 8pm. As of 5.04pm, 122,307 jabs have now been administered across New Zealand. About 35,000 of those were first doses.
Yesterday, just over 69,000 jabs were administered, taking New Zealand's vaccination rate to 83.8 per cent - 63.1 per cent with both doses and 20.7 per cent with one dose.
Vaccine clinics are opening across the country today as health workers target a 90 per cent vaccination milestone in the coming weeks.
Prime Minister Jacinda Ardern and Director-General of Health Dr Ashley Bloomfield have been going around the Wellington region, as they join the drive to get people vaccinated. And Kiwi A-List stars including Lorde and Taika Waititi have beamed in from the US to join today's Vaxathon.
Hundreds of cars lined up at the drive-through vaccination centre at the city's Sky Stadium.
Ardern was accompanied by Deputy Prime Minister Grant Robertson and her fiancée Clarke Gayford.
One man getting his jab Penitito Leota says he did not expect to meet the Prime Minister when he arrived at the stadium.
Leota says she praised him for getting the vaccine, adding it did not even hurt.
In Whanganui, people sitting on the fence about getting a Covid-19 jab could get some advice today.
The area's vaccine rollout coordinator Louise Allsopp says Super Saturday's about getting as many people across the country vaccinated and protected against
serious illness.
Allsopp like the Whanganui area to smash its record of 1400 vaccinations per day, but says this weekend is also for the undecided.
She says if people do not want to get vaccinated today, they can go along and talk to someone about what their worries are.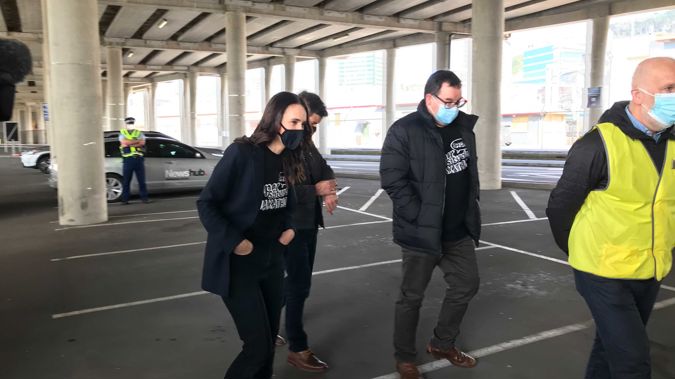 Prime Minister Jacinda Ardern at the Sky Stadium drive through clinic. (Photo / Sophie Trigger)
In Auckland, 300 pre-booked people will have their vaccination on board an Air New Zealand Boeing 787 Dreamliner jet, in business class. In Gisborne, four clinics are offering live music, cheeseburgers and tickets to Rhythm and Vines. In this country's most vaccinated region, Dunedin, there is music and food at the Octagon.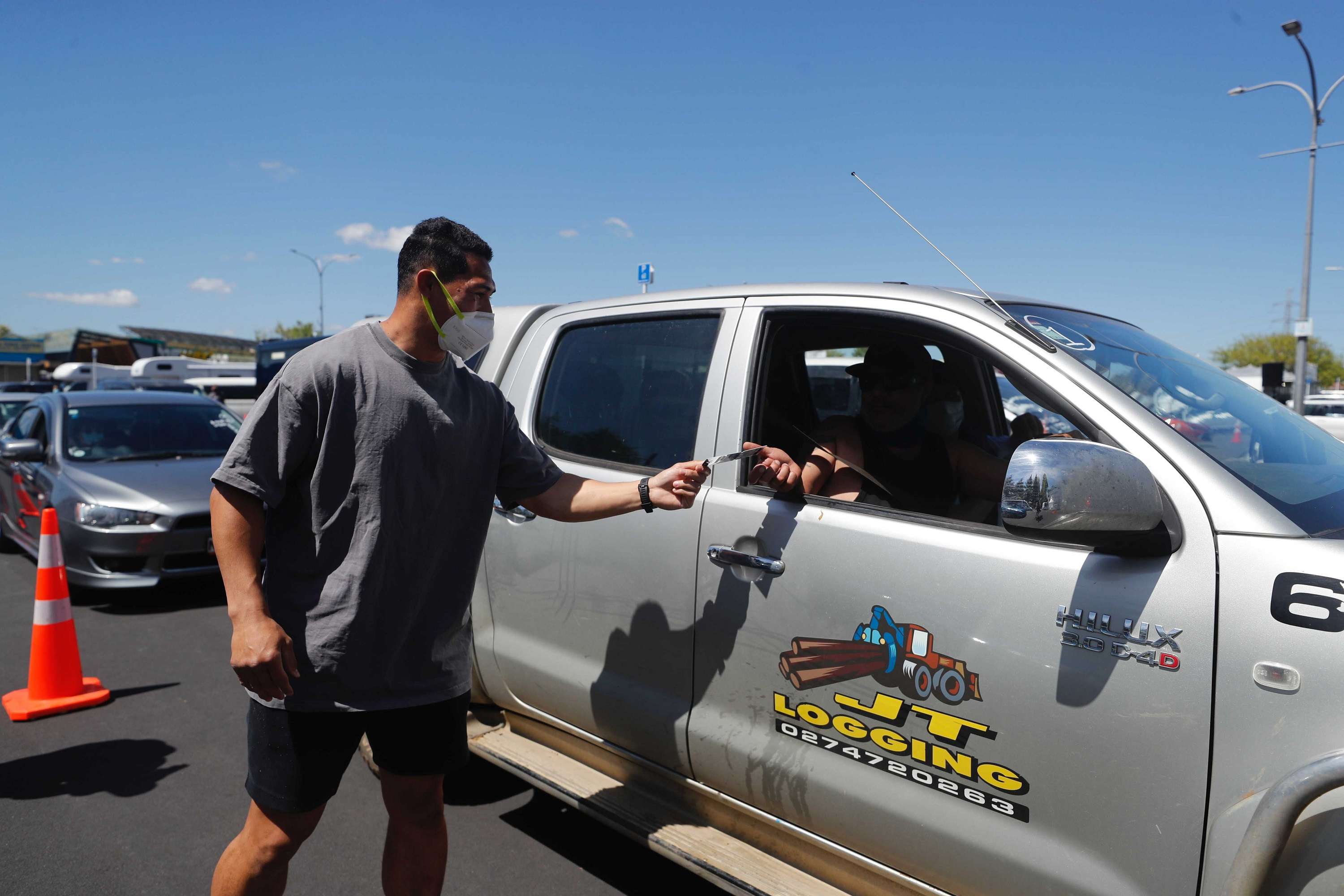 Former Warriors star Roger Tuivasa-Sheck handing out vouchers and posing for a photo with South Seas coordinator Lourdes Leuii. (Photo / Dean Purcell)
Your guide to vaccination across NZ
New Zealand's day of vaccination - Super Saturday - is upon us and is expected to be a record-breaking effort in the country's battle with Covid-19.
With 136 community cases in the past two days, the emphasis has been placed on boosting vaccination levels nationwide to ensure Kiwis are at least partially protected from the virus.
Currently, 83 per cent of Kiwis have had their first jab, while 62 per cent are fully vaccinated. A full vaccination level of above 90 per cent across populations has been long touted as the point at which New Zealand can start reconnecting with the world.
Prime Minister Jacinda Ardern has set her sights on 100,000 vaccinations across Saturday, which would be the rollout's largest daily vaccination total ever.
To achieve that goal, more than 550 vaccination sites will be open across the country with many working extended hours to give people ample opportunity to get their jabs.
An eight-hour Vaxathon (vaccination telethon) will broadcast from 12pm to 8pm on THREE, Māori TV, TV2, nzherald.co.nz and Discovery, as well as other Māori platforms like Hahana, JGeeks, Re: News, Te Wiki o te Reo Māori and Waatea News.
Instead of donations, the aim of the Vaxathon is to raise national vaccination levels which will be updated regularly throughout the broadcast, informing viewers where vaccination rates are rising the fastest.
Celebrities, influencers, politicians and health professionals will be live on set at Avalon Studios in Wellington, as well as at vaccination centres across the country including in Kaitaia, Ōtara, Manurewa, Rotorua, Porirua, Ōtautahi (Christchurch) and Te Whanganui-a-Tara (Wellington).
The Vaxathon headlines the hundreds of different initiatives from the likes of health providers, businesses and community groups, encouraging and enabling people to get vaccinated.
Ministry of Health Covid-19 vaccination programme equity manager Tāmati Shepherd-Wipiiti said more than $500,000 of prizes had been donated along with $300,000 in funding - not including the community-led donations which would see the overall total breach $1 million.
Shepherd-Wipiiti, also in charge of the vaxathon, said it had been an incredible effort to organise the eight-hour broadcast in just 10 days when previous telethons often took months to coordinate.
"The Ministry of Health has just performed out of its skin to do this, but we've had help from everywhere."
Given his duty to ensure the rollout was equitable, Shepherd-Wipiiti said alterations in approach and funding structures had been implemented to make the vaccine accessible to all communities.
"We've made a big pivot in the last couple of weeks, we've not got the vaccine at the centre, we've got the whānau at the centre now.
"Some of these communities, these nurses are telling me they're going back three or four times to have this discussion ... there'll be more of that tomorrow and it will continue."
To find a vaccination centre near you, visit the Unite Against Covid-19 Super Saturday webpage.