Offensive T-shirt on display in Christchurch
Author

Publish Date

Fri, 13 Feb 2015, 5:28AM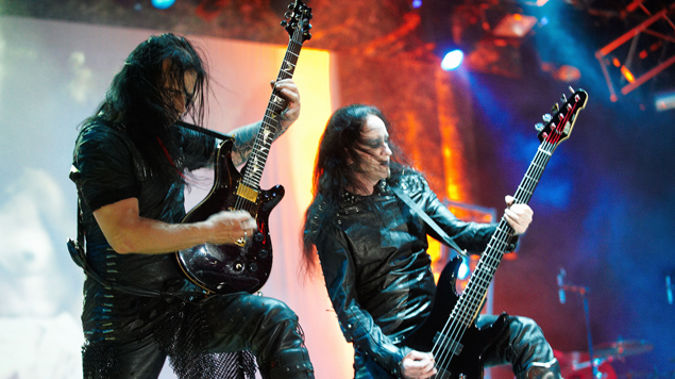 Offensive T-shirt on display in Christchurch
Author

Publish Date

Fri, 13 Feb 2015, 5:28AM
Updated 1.39PM: The Director of Canterbury Museum says it's a fine balance between undue offence and undue censorship in regards to a graphic T-shirt.
The piece of clothing was created by UK band Cradle of Filth.
It describes Jesus as the c-word, and carries a highly sexualised picture of a nun.
The t-shirt will be displayed in an R18 area of the 'T-shirts Unfolding' exhibition starting tomorrow.
Director Anthony Wright says they're trying to tell the story of T-shirts within street art culture, without unduly censoring the content.
"We've got to balance that up against anyone that might be offended, and we've bent over backwards to make sure that anyone who might be offended won't come into contact with anything offensive. It's a tiny part of the overall exhibition."
Auckland University's senior lecturer Dr Geoff Kemp says though he doesn't like the t-shirt, the way it's presented is acceptable.
"Because it's now appearing in an exhibition context, it's trying to tell a story in a more reflective, educational way. It seems a different context to the idea of it just being worn out on the street."
The Anglican Church has condemned the proposed exhibition of a T-shirt describing Jesus as the c-word and depicting a highly sexualised image of a nun .
Bishop Victoria Matthews says this should be about common decency.
"What's the line between art and pornography, and what is the line between communication and inciting violence."
She says the issue is larger than just the church to be concerned about.
Bishop Mathews says this needs a wider conversation among the community about whether it's something people want or not.
A Catholic blogger has slammed a proposed exhibition of a T-shirt describing Jesus as a c-word and depicting a highly sexualised image of a nun as irresponsible .
Blogger Brendan Malone says museums should be a place that brings the community together.
"This is an action on the part of Canterbury Museum that's actually choosing to foster intolerance and religious division, and I don't think that's a good thing for ratepayers to be funding at all."
Family First says a ruling a few years ago on T-shirts with the same wording show its highly offensive and unfit for display.
National director Bob McCoskrie says whether its on display in a museum or worn by a member of the public, it's offensive and shouldn't be allowed.
"The public has access to it, and they shouldn't be confronted by this kind of offensive and unnecessary material," he said.