NZ's top road cop on a mission to crack down on drink driving
Author

Publish Date

Mon, 28 Nov 2016, 5:44am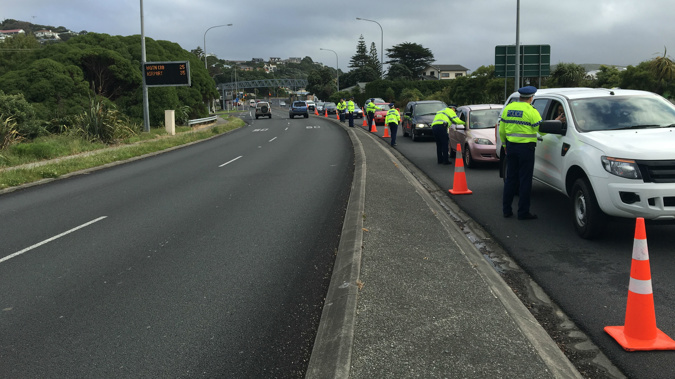 NZ's top road cop on a mission to crack down on drink driving
Author

Publish Date

Mon, 28 Nov 2016, 5:44am
On a windy, Wellington Friday night - the kind of wind that makes you eyes water and hat blow off - Police were cracking down on drink drivers.
It's probably one of the least exciting parts of police work, standing on the side of the road at night, breath testing driver after driver - thousands in fact.
But among constables and sergeants, old cops, new cops and local cops, the country's top road policeman Superintendent Steve Greally was stopping cars and breath-testing drivers.
"It's good to get out from behind the desk," he said.
He reckons it reminds him why he does the job, and helps him and those at the top make good policy decisions.
That sounded like a good answer, well rehearsed. As the night goes on it becomes pretty clear that stopping people drink driving is a cause close to his heart.
"When you go to a crash, any crash, it's traumatic. The things you see smell and hear are really hard to describe. The worst thing is when you have to front up to someone's home at 2am, to someone you don't know, and tell them their loved ones, mum, dad or children are not coming home."
On Friday Police stopped 2143 drivers. Five were found to be over the legal limit, one being over the upper limit of 400 micrograms.
Some of the drivers who had alcohol detected on their breath tried all the tricks in the book as they were lead into the caravan for further testing.
One man, who was well dressed, insisted on taking photos of his car when he got out. He then kept stopping to make small talk on the walk to the testing van. As if that extra 30 seconds might just sober him up enough to sneak under the limit.
Another woman tottered out of her expensive car, got halfway to the van and insisted on going back to get a scarf. She was so flustered in the end, she jammed it in the door.
The officers dealing with these stallers have seen it all before.
Superintendent Steve Greally certainly would have.
He knows the road toll off the top of his head and drops it into our conversation a lot. I get the feeling he'd know the exact location and cause of each of those 332 deaths.
Alcohol and driving just doesn't mix - a drink driver could go on to kill someone, he said with a hint of emotion.
"I've been to so many fatal crashes, or serious injury crashes where the car smells of alcohol . . . It's really disappointing but unfortunately not that surprising."
The same checkpoint this time last year saw no one caught drink driving, a combination probably of luck and messaging.
For Steve Greally that would have been the outcome he wanted for tonight, but overall he said they were pleased with the results. Five drink drivers out of more than 2000.
So if you're heading home after a work Christmas party a few drinks deep this year, if you're tailgating someone, speeding or overtaking on a double yellow line, you might initially think you've got away with it, but you might not have. You could have just passed an off duty Steve Greally and his wife. He might get his wife to star triple five you, or even ring 111 - he's done it before.