NZ hits record net migration gains
Author

Publish Date

Thu, 29 Mar 2018, 5:28am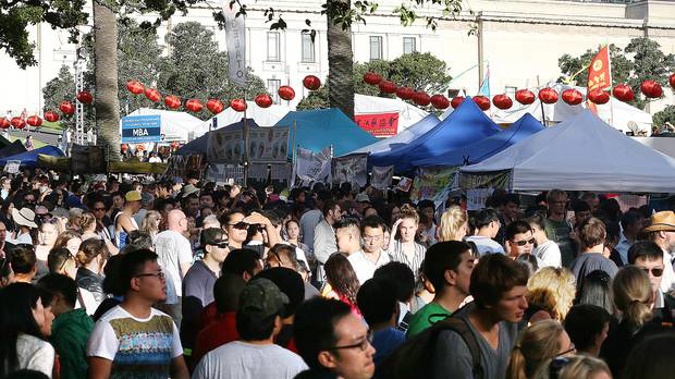 NZ hits record net migration gains
Author

Publish Date

Thu, 29 Mar 2018, 5:28am
An unprecedented increase in arrivals of foreign nationals last year has given New Zealand its highest net gain ever recorded, despite the Government's efforts to restrict immigration numbers.
New Zealand had a net gain of 72,300 permanent and long-term migrants in 2016/17 or 4.7 per cent more than the previous year, according to the annual Migration Trends report released today.
It was also the seventh year-on-year increase for work visas — with 152,432 temporary workers in the country on 30 June last year or 16 per cent higher than the year before.
But the number of new international students had dropped 3 per cent, bringing the total number of student visa holders to 75,578, or 1 per cent lower than the same period last year.
Professor Paul Spoonley, a Massey University sociologist and immigration expert, said the net gain of immigrants had increased for the fifth year in a row.
Prof Paul Spoonley, Massey University sociologist and immigration expert.
"This is despite some categories like parent being suspended, tougher conditions being applied - an increase in points required, and minimum remuneration levels for skilled migrants - and tougher scrutiny of documents for student visa applicants," Spoonley said.
"Even with a more restrictive approach, numbers arriving and the net gain remains very strong ... New Zealand remains an important destination."
Figures released by Statistics New Zealand showed there had only been a drop of 200 net gain since last year.
A quarter of all permanent arrivals and 57 per cent of all departures are New Zealand citizens.
"But a more important factor in the growth in recent years has been a result of non-New Zealand immigrant arrivals," Spoonley said.
There was a growth of 34 per cent in study to work visas, 17 per cent in essential skills visas, 12 per cent in family work visas and 8 per cent in working holiday scheme visas.
New work visa approvals were 8 per cent higher than the year before.
Spoonley said the high number of work visas reflected growing issues of labour supply and a reliance on immigrant labour in some industries.
"These temporary workers are important for two reasons, they fill key labour shortages and they provide a pool from which permanent residents come," he added.
Immigration Minister Iain Lees-Galloway said the report showed that any tinkering the previous Government did had only a marginal impact on migration numbers.
Iain Lees-Galloway, Minister for Immigration.
"However, I must reiterate our position that the numbers are less important than having an immigration system that actually works better for New Zealand, especially the regions and industries facing labour shortages," he said.
"The Government inherited a one-size-fits-all immigration system that is not flexible enough to respond to the urgent need to fill labour and skill shortages in the regions, and instead funnels people to Auckland, where the infrastructure can't cope."
Lees-Galloway said the new Government's priorities were better matching skilled migrants to industries and regions, and also tackling exploitation.
"While the unemployment rate is relatively low, the under-utilisation rate is reasonably high, at 11 per cent - meaning there are plenty of Kiwis who are looking for more work. We need to make sure that people have the skills and attributes required to take up the opportunities that are available," he said.
"Industries that have a genuine skill shortage will be able to get the migrant workers they need."
The Minister said new visas such as an Exceptional Skills visa for the highly skilled or talented and a KiwiBuild visa for residential construction firms who train a New Zealander when they hire a worker from overseas were being explored.
"We will work constructively with employers, workers, local government and business organisations to make sure New Zealand gets a responsive and flexible immigration system that really works for New Zealand," Lees-Galloway added.
More than two in three student visa holders and over 75 per cent of work visa holders left New Zealand five years after the end of their visa.
The drop in student numbers was driven by a 32 per cent decline in new approvals from India, the second largest source country, but is partially offset by a 5 per cent rise in new approvals from China, which remains the largest source country.
The number approved for permanent residence fell 8 per cent to 47,684 — driven by the closure of parent category to new applicants and the increasing of points from 140 to 160 for skilled migrant applicants.
Retention rate of residents is also slowing increasing with almost nine in 10 of those granted residence in 2011/12 still in New Zealand after five years compared with eight in 10 of those granted in 2001/02.

Migration Trends 2016/17
• Net inward migration gain 72,300 (up 4.7 per cent)
• New student visa approval 75,578 (down 1 per cent)
• Temporary work visa holders in NZ 152,432 (up 16 per cent)
• Permanent residence approval 47,684 (down 8 per cent)
(source: MBIE Migration Trends 2015/17 report)