Nurses reject pay offer, demand urgent mediation
Author

Publish Date

Mon, 18 Jun 2018, 1:09PM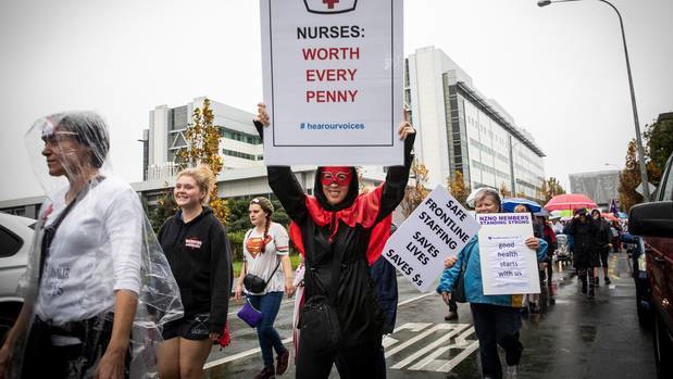 Nurses reject pay offer, demand urgent mediation
Author

Publish Date

Mon, 18 Jun 2018, 1:09PM
Nurses have rejected the latest pay offer from district health boards, but are holding off on strike action for now.
The New Zealand Nurses Organisation is instead requesting urgent mediation, in order to stave off a two-day strike that could go ahead in July.
Industrial services manager Cee Payne said nursing and midwifery was an essential service, so negotiations needed to be held urgently, to avoid strike action.
"Alongside the setting up of urgent mediation or facilitation, NZNO is surveying members to seek clarity about the specific issues that members require to be addressed.
"Nurses and midwives do not trust that their work environment or patient care will improve in the short term.
"While the revise offer included new funding to address short staffing, concern remains that this may not be enough to make a real difference.
"While the revised offer was substantially improved, compared to the previous one on pay for some members, members have rejected this. There may be concern about the variability of the offered pay increases."
Payne said that the pay equity offer didn't specify how and when the changes would be brought in, which created uncertainty for members."
Payne said many of their members had voted in favour of strike action.
While she wouldn't give out percentages of the vote result, she said there was an exceptionally high turnout.
"We're going to do everything we can to see if we can get an improved offer out of mediation. We have the ability to conduct an online ballot before the 5th of July," Payne said.
"A very significant number have voted to take strike action.
"I'm sure there are a range of opinions just as there are across any organisation of this size in the public sector. But many are committed to strike action."
Payne said that while the latest offer would see top level nurses get a 15.9 per cent raise over three years, all other nurses would only get a three per cent raise per year over three years.
She said that if strike action went ahead, NZNO was committed to providing life-preserving services during the action.
NZNO chief executive Memo Musa said strike action was a last resort, but if it went ahead patient safety would be the first priority.
Nurses have agreed to take strike action later this year in response to two offers made to them by district health boards.
The latest vote comes after DHBs made a third pay offer, which would have seen all New Zealand Nurses Organisation DHB members getting at least a nine per cent pay rise by August next year.
Many predicted strike action after the offer, with some members going as far as to call it "an absolute joke".
Nurses and midwives were given two weeks to consider the offer, before the decision was announced today.
What was on offer:
• All members to get a base level pay rise of 9 per cent (three 3 per cent rises) by August 2019.
• DHB registered nurses and midwives with more than five years' experience to get an additional 6 per cent pay rise by December next year.
• Senior members to get a 10 per cent pay increase (two 3 per cent, one four per cent rise) by August 2019.
• All part-time and causal members to get an additional lump sum payment of $2000 by next month.
• On-call allowance will increase from $4.04 to $8 per hour, $6 to $10 on public holidays, by June 2018.
• DHBs to receive a $38 million investment which will allow an extra 500 graduate nurses to be employed effective immediately.
Take your Radio, Podcasts and Music with you