Northland couple stunned after kiwi wandered into home
Author

Publish Date

Tue, 10 Apr 2018, 4:49pm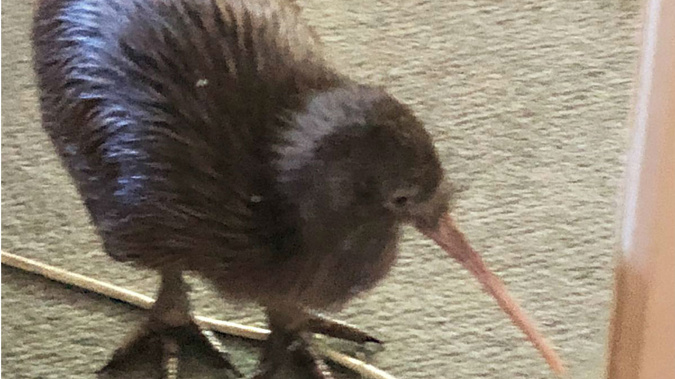 Northland couple stunned after kiwi wandered into home
Author

Publish Date

Tue, 10 Apr 2018, 4:49pm
Athene Greenaway has had a close-up kiwi encounter she will never forget after the bird swapped native bush for her family home.
The kiwi, known as K59, wandered into the house on Ngahere Drive in Maunu, about 500m outside Pukenui Forest, about 2pm on Easter Monday. The adventurous bird had to cross busy Maunu Rd (SH14) to get to the Greenaway's home.
"It was an insane experience," an astonished Mrs Greenaway said.
The native invader marched across the carpet on a mission.
"It traversed our lounge... it was such a special moment."
Mrs Greenaway had been sorting boxes when she noticed the kiwi in the lounge. She alerted her husband Roger to the uninvited feathered visitor.
K59 strolled through to a second lounge room area and the couple closed the sliding glass doors to keep it in.
"It was truly an extraordinary experience to find a kiwi strolling around in our house. And then came the weight of the responsibility for her wellbeing."
A series of phone calls led the couple to Pukenui Western Hills Forest Charitable Trust ranger Bevan Cramp who responded to the call for help immediately.
Mrs Greenaway said during the two hours the kiwi was in her home she had an amazing close up encounter with the kiwi.
"She came up and was tapping the glass of the sliding doors and I was on the other side. She was right there, right in front of me.''
K59 then sought shelter on a bedside table where a computer was stored.
Roger and Athene Greenaway thankful ranger Bevan Cramp turned up to take kiwi K59 back to Pukenui Forest after she wandered into the couple's Maunu home. (Photo / Supplied)
When Mr Cramp arrived the bird was fast asleep.
"We were so thankful to Bevan, who came to get her as soon as he heard. His care and passion for the bird was evident," Mrs Greenaway said.
The female bird was one of 12 adult kiwi, with transmitters attached, that were released into the Pukenui Forest near Whangarei, on March 17, and are being monitored for the next 12 months.
The birds were raised on Hauraki Gulf kiwi-creche island Motuora, but incubated at Auckland Zoo from eggs taken from the western section of the greater Whangarei Kiwi Sanctuary.
Mr Cramp said some of the 12 kiwi were moving massive distances since their release just over two weeks ago.
Kiwi are nocturnal and are usually sleeping during the day so why K59 was out during the day and is anyone's guess, he said.
"As the kiwi are still new arrivals they are moving around far more than usual looking for suitable territory to settle down in which may explain why the kiwi was wandering around the fringes of the city. It's possible the kiwi wandered into someone's garden to sleep for the day and for one reason or another was spooked into going inside Roger and Athene's house," Mr Cramp said.
He said on average since her release K59 was moving for 11.1 hours every night.
"What is obvious is that some are moving massive distances and getting very close to people, roads, houses, dogs and our backyards. Most haven't moved far from where they were released. There is enough food in the forest for hundreds of kiwi."
Kiwi K59 being taken from a Maunu home back to the Pukenui Forest. Handling of kiwi must be done by those trained to do so or else in can result in serious injuries to the bird. (Photo / Supplied)
A kiwi named Te Kamo ventured to the other side of Whau Valley Rd, but he had safely retraced his steps back to the forest.
"There are huge dangers for the kiwi when they come into the city, mainly traffic and pets particularly dogs. As an example of just how dangerous dogs are to kiwi the average life expectancy of kiwi is 40 to 65 years but in Northland that number is reduced to a mere 13 years, with 65 per cent of all adult kiwi in the region being killed by dogs," Mr Cramp said.
It was extremely important for dog owners to keep their dogs under control at all times, around Pukenui Forest, especially near Three Mile Bush, Kamo, Whau Valley, Maunu and Kara, Kokopu Road areas.
He said those driving at night in those areas should also take care as kiwi could be out wandering.
"While we are monitoring the kiwi closely, so we can move them away from danger if needed, they can travel large distances in a single night. We would much rather the kiwi stay in the forest where we can hear them rather than see them."
If you see or hear a kiwi near the edge or outside the forest contact Mr Cramp immediately on [email protected]