Navy singer to perform National Anthem at Gallipoli
Author

Publish Date

Sat, 25 Apr 2015, 6:13am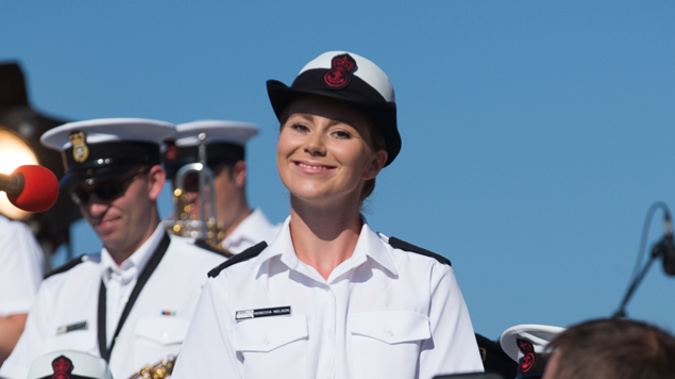 Navy singer to perform National Anthem at Gallipoli
Author

Publish Date

Sat, 25 Apr 2015, 6:13am
A singer who enlisted with the Royal New Zealand Navy has been asked to perform our national anthem in Gallipoli.
Classical street performer Rebecca Nelson, who has toured with Will Martin and The Priests, joined the Navy after being discovered by its musical director.
Now she's preparing to sing at the ANZAC Centenary commemorations.
It's not her first time singing the New Zealand anthem at Gallipoli.
The Christchurch-born 26 year old first performed there with the Defence Force Band last year.
"It was absolutely incredible. It's a huge honour to sing for your country, but to be asked back again for the 100 years, I'm really excited."
Her great uncle handled a team of horses transporting goods in World War One, but he died in Belgium at the same age Rebecca Nelson is now.
"This year I will be wearing his medals and having done the family history...I just feel a little bit more involved in it."
A Northland high school student is undaunted and extremely excited after winning a trip to Gallipoli.
Richard Young will attend the centenary commemorations in Turkey, after winning his regional final of the Cyril Bassett, VC Speech Competition.
The 17 year old spoke at last year's ANZAC Day dawn service in Whangarei, in front of a crowd of around 3000.
"It was a really eye opening experience for me, just being able to speak in front of such a large number of people and hopefully touching all of their hearts."
The young New Zealand orator says it is an opportunity to give back to his school and country.
"I'm extremely excited, but I also feel very p[privileged to have such an amazing experience. It's going to be a really good way for me to help represent my school and everything that it's done for me."
Richard Young says he feels very privileged to be heading overseas for such an amazing experience.