More wild weather: 100km/h gusts possible for upper north on Saturday, amid 'rough and ragged' front
Author

Publish Date

Tue, 26 Sep 2023, 12:11PM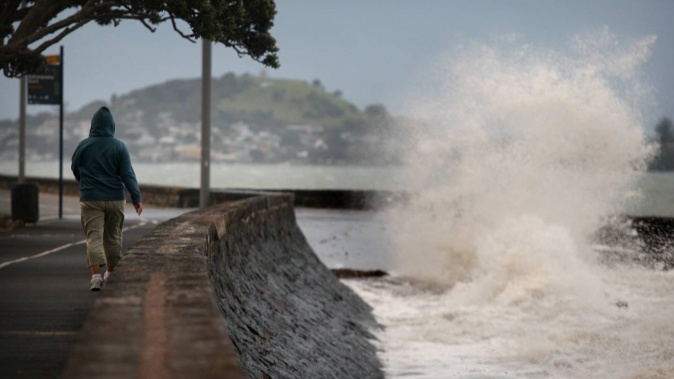 More wild weather: 100km/h gusts possible for upper north on Saturday, amid 'rough and ragged' front
Author

Publish Date

Tue, 26 Sep 2023, 12:11PM
After an atmospheric river that's soaked parts of the country, a weekend bout of "rough and ragged" weather could bring 100km/h gusts to Auckland and Northland. 
A forecaster says the wild conditions – coming with a cold front expected to move up from a stormy Southern Ocean over the next few days – can be linked to the same big-picture climate driver that delivered record September heat to the North Island last week. 
Niwa Weather meteorologist Ben Noll said the front would be pushed up by a resurgence of the polar jet stream: a band of fast-flowing, narrow air currents circulating high in the atmosphere to our south. 
"The polar jet starts to develop this week in the Great Australian Bight, south of Tasmania, and then a piece of that moves right into New Zealand, and right across the country, on Saturday," Noll said. 
"As that southerly moves up, it looks like there could be a relatively strong low that forms along it near the North Island, and this is going to come with some pretty rough and ragged weather conditions for much of the country." 
It could mean big waves, cold temperatures, and low snow elevations in the south - but also powerful southwesterly winds, especially in Auckland and the northern North Island on Saturday. 
"The details will become clearer as we get closer, but we could be looking at widespread gusts in the vicinity of 80km/h to 100km/h - and in some cases above 100km/h," he said. 
"It's looking like a pretty striking day from a weather perspective, in the northern North Island in particular, so if you've got something on in a place like Auckland, I'd start thinking about your plans. 
"It's not looking like just your run-of-the-mill, gusty southwesterly wind – this could be a significant event, potentially." 
MetService was also advising of windy conditions over Friday and Saturday in its latest severe weather outlook. 
The agency said there was "moderate" - or a two in five chance – of severe west to southwest gales affecting the upper North Island from Waikato and western Bay of Plenty northwards from Friday to Saturday, while confidence for central and southern parts of the North Island was low (a one in five chance). 
There was also low confidence at this point – or a one-in-five chance – that the system would bring "warning" amounts of rain for the west of the South Island from Friday to Saturday. 
That was also the case for southern and central parts of the North Island from the Tararua range northwards, through Manawatu to Taranaki and the central high country, on Saturday. 
Source / MetService 
It comes at the end of what's been an extremely windy month, which has seen downed trees and powerlines, and a new national record nearly set with a 246km/h gust measured at Cape Turnagain on September 17. 
Noll pointed out it was also only last Thursday that Wairoa set a new North Island record for the hottest temperature – 29.6C - ever measured in September. 
"At a wider level, this is indicative of the types of patterns that can happen in spring – but especially one with a burgeoning strong El Niño – where we see these very changeable patterns from one week to the next," he said. 
"So, here in September, you can go from island-wide record maximum temperatures, to having a resurgence of the polar jet stream – and that can be quite jarring." 
Strong winds – namely southwesterly winds over the colder months – was a calling card of a forming El Niño, and in August these helped deliver what was New Zealand's first colder-than-average month since May 2017. 
Over coming months – and right through summer - the El Niño was expected to keep driving strong westerly winds over New Zealand, owing to the way the pattern had helped configure high pressure to the north of the country, and low to the south. 
This set-up would gradually dry out swathes of New Zealand's east – as it had already begun to – which the westerly winds reached strong and dry. 
For many other parts of the country – notably the South Island's West Coast, Central Otago and Southland – those westerly flows instead spelt a wet and cloudy summer. 
Noll singled out another major El Niño effect for New Zealand: a stormier Southern Ocean, bringing up more systems from the south. 
"El Niños do have a tendency for more negative phases of the Southern Annular Mode, where you're seeing the Southern Ocean very active and influencing New Zealand's weather – and that's what we'll see on Saturday." 
Niwa was due to issue its outlook for the last three months of 2023 later this week – and was also shortly expected to follow Australia's Bureau of Meteorology and officially declare El Niño's arrival. 
Take your Radio, Podcasts and Music with you