Marokopa fugitive dad Tom Phillips: Police reveal 12 more sightings
Author

Publish Date

Sat, 18 Nov 2023, 9:37AM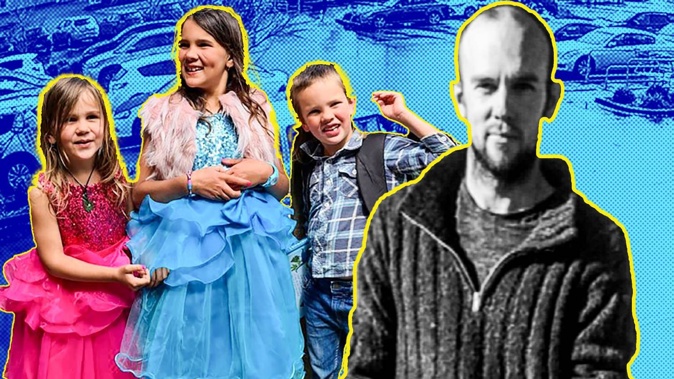 Marokopa fugitive dad Tom Phillips: Police reveal 12 more sightings
Author

Publish Date

Sat, 18 Nov 2023, 9:37AM
After missing Marokopa fugitive Tom Phillips allegedly committed yet another crime but still evaded police, the detective tasked with finding him has revealed there have been a dozen sightings since the beginning of October. 
This follows 14 unconfirmed sightings of Phillips, who has been missing since December 2021 along with his children Jayda, 9, Maverick, 8, and Ember, 6, being reported in September this year. 
The latest incident involving Phillips, where he allegedly stole a bike with one of his children and smashed a storefront, is the only confirmed sighting of the 12 reported since October.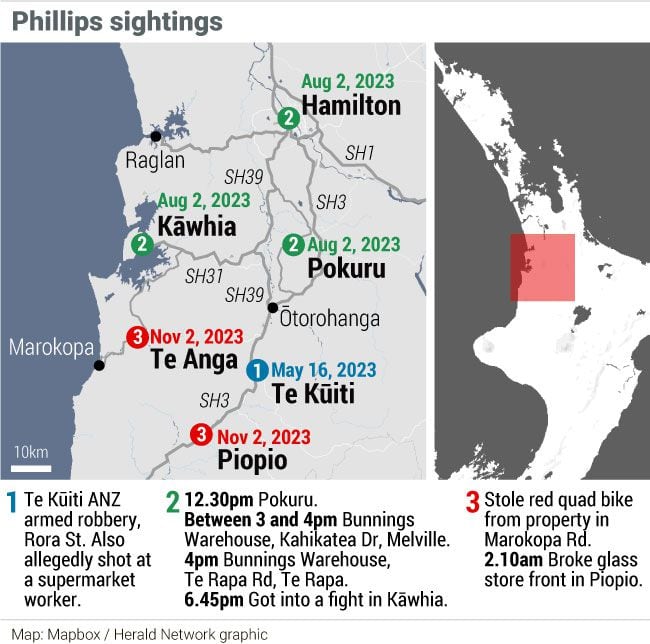 Each of the 12 sightings since October have been separate incidents reported on different days, a police spokesman told the Herald. He wouldn't provide details of when or where the sightings were because most were still unconfirmed. 
Phillips and his children first went missing in September 2021, sparking a massive ground, sea and air search. 
The father and his children turned up almost three weeks later, on September 30, revealing they had been living in a tent in dense bush. 
Police then charged Phillips with wasteful deployment of police resources, but he never showed at the Te Kūiti District Court for his first appearance in January 2022, after which he went on the run. 
Phillips evaded the attention of police for 19 months before he was seen shopping while wearing a disguise, stole a car and got into a fight with a member of the public in August. Police then linked Phillips to a bank robbery in May. 
Members of the public reported seeing the fugitive 14 times in September, all of which were unconfirmed. 
Phillips allegedly stole a quad bike from a rural Waikato property on November 2 - almost two years after he and his three children disappeared. 
Here is a record of all of the incidents Phillips is accused of being involved in and his sightings so far. 
May 16, 2023: Phillips allegedly robs bank, shoots at supermarket worker
Phillips allegedly robbed a bank and shot at a supermarket worker in Te Kūiti in May, prompting police to issue a warrant for his arrest on September 5. 
Police charged him with aggravated robbery, aggravated wounding and unlawfully possessing a firearm over the armed heist of ANZ Te Kūiti on Rora St on May 16. 
ANZ Bank on Rora St, Te Kūiti, which Tom Phillips is accused of robbing. Photo / Google 
Two people entered a bank on Rora St, Te Kūiti, Waikato, and demanded cash, acting Detective Inspector Andrew Saunders said. 
The pair then fled the scene on a black, farm-style motorcycle, Saunders said. 
Witnesses told the Herald two men, wearing all black and motorcycle helmets, entered the bank branch and were asked by ANZ staff to remove their helmets, which is when the robbery began. 
Tom Phillips allegedly fleeing from a bank robbery. Photo / NZ Police 
A witness said the offenders, one short and the other tall, fled the bank "with $50 notes flying everywhere". 
The Herald approached ANZ for comment, but a spokeswoman said: "I can't provide any comment while police are investigating." 
August 2, 2023: Phillips' Bunnings shopping spree, fight with member of public
A spate of sightings around Waikato on August 2 reinvigorated efforts to find Phillips and his children. Police started doing door-to-door checks in Te Anga, Pomarangi and Marokopa Rd areas. 
Phillips was seen in two different Bunnings Warehouse stores, disguising himself with glasses and a surgical facemask and driving a stolen ute. 
Phillips disguised himself while shopping at Bunnings. Photo / NZ Police 
He used cash to buy items, which suggested he may have set up a campsite, including headlamps, batteries, seedlings, buckets and gumboots. 
12.30pm: Phillips is spotted driving a stolen 2003 bronze Toyota Hilux in Pōkuru, south of Te Awamutu. 
3pm-4pm: Phillips visits Bunnings Warehouse on Kahikatea Drive, Melville, Hamilton. Security footage captures him driving the stolen ute in the store's car park. 
4pm: Phillips goes to Bunnings Warehouse on Te Rapa Rd, Te Rapa, Hamilton. Security footage from inside the store shows him wearing a beanie, glasses and a surgical facemask to hide his identity. 
6.45pm: Phillips gets into a fight with the owner of the stolen ute in Kāwhia. The owner tries to run Phillips off the road. The owner also realises winter clothing is missing from his property. 
Phillips was seen driving a stolen Toyota Hilux. Photo / NZ Police 
Police also ask for sightings of Honda 50cc motocross bike, a 200cc black Suzuki Trojan, a 200cc Honda XR and a Honda 2008 FourTrax quadbike. 
September 2023: Fourteen unconfirmed sightings
Police revealed they had received 14 reports of sightings of Phillips throughout September. 
Detective Inspector Saunders said: "Unfortunately, none of these reported sightings of Tom Phillips or the three children have been positive." 
Saunders thanked the community for sending in information and continued to ask for people to come forward. 
"Work is ongoing in efforts to locate them and this includes continuing to carry out area inquiries." 
Inspector Will Loughrin has been involved in the search for Phillips and asked people to report thefts of fuel, food and other supplies. Photo / Mike Scott 
Phillips' cousin, Trevor Neal, earlier told media: "As long as the kids are fine - I'd say they are, otherwise somebody would have heard something by now. He could [still] be [in the area]. I don't know." 
Police asked the Waikato community to be vigilant and report any suspicious activity. Inspector Will Laughrin urged locals to specifically report thefts of fuel, food and other supplies. 
November 2, 2023: Phillips and child steal quad bike
Phillips allegedly stole a quad bike from a rural Waikato property and then broke into a shop with one of his children on November 2. 
Police appealed for any sightings from the public of Phillips, his children or the stolen quad bike. 
Security footage from the Piopio shop shows the masked pair smashing the front glass and fleeing north after the alarm was set off about 2am. 
Tom Phillips and one of his children caught on camera in Piopio. Photo / NZ Police 
Phillips spray-painted the security cameras around the shop he allegedly tried to break into, a neighbouring business owner told the Herald. 
The shopkeeper at the store on the corner of Ruru and Moa streets that Phillips targeted refused to speak about the incident. 
The red farm-style quad bike, with no registration, was reported stolen from a Marokopa Rd property in Te Anga earlier that day. 
"We cannot stress enough how important the community is to locating ... Phillips and his family," Detective Inspector Saunders said. 
Raphael Franks is an Auckland-based reporter who covers breaking news. He joined the Herald as a Te Rito cadet in 2022. 
Take your Radio, Podcasts and Music with you