Fountain tragedy: $90k upgrade after 4-year-old's suspected drowning death
Author

Publish Date

Sun, 19 Nov 2023, 10:05AM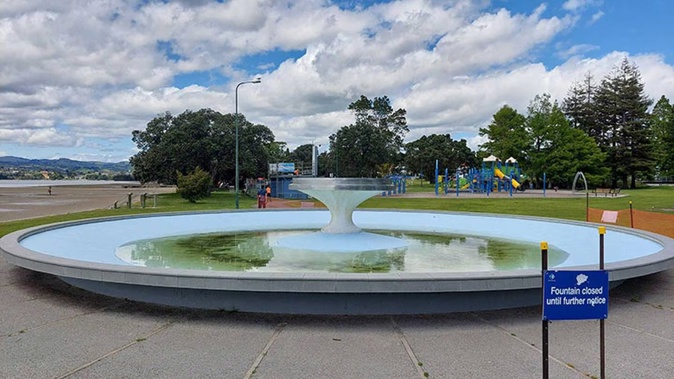 Fountain tragedy: $90k upgrade after 4-year-old's suspected drowning death
Author

Publish Date

Sun, 19 Nov 2023, 10:05AM
A public fountain in Tauranga where a pre-schooler is believed to have drowned will be modified to prevent such a tragedy from happening again.
On May 21, emergency services were called to a "drowning incident" at the Memorial Park fountain and found a child "unresponsive".
CPR was carried out but the 4-year-old, who would have turned five three days later, did not survive.
The 60-year-old fountain was drained and fenced off.
Coroner Matthew Bates released the child's age, but no other details as he began an inquiry.
His findings were not expected to be released before the end of the year and there is interim suppression of the child's details.
The death prompted Tauranga City Council to commission an independent safety review of all artificial water features in its parks and reserves.
Council general manager of community services Barbara Dempsey said the final report found many of the water features were minimal risk, as they were not intended as play features, but "some minor modifications can be made to reduce the associated risk with artificial water bodies".
"Every water feature is unique, and we will look to implement the recommendations for each one as quickly as possible," Dempsey said.
At Memorial Park, Dempsey said the council would modify the fountain "to create a zero water depth environment".
"This will be achieved by adding an insert to the fountain so that water can still flow but without any depth to the pond," she said.
Barbara Dempsey, general manager of community services, pictured at a Tauranga City Council meeting this year. Photo / Alex Cairns
"We hope to have the fountain modified before the busy summer holiday period."
The modifications were expected to cost about $90,000.
The council was still investigating cost options for improving the city's seven other artificial water features, she said.
Temporary fencing around the fountain has been removed but it was still empty last week.
In the days following the death, flowers were placed on the fence next to a handwritten "Keep out" sign.
Close calls
In 2002, a child nearly drowned in the fountain. An August 14 report by the Bay of Plenty Times said a witness saw a toddler floating in the water. Someone he assumed to be the mother jumped in and pulled the child out.
After the incident, the council put up signs prohibiting swimming in the fountain and was reported to be considering fencing it off.
The incident also sparked a proposal by council staff to reduce the depth at the centre of the fountain by introducing a two-layer concrete ring.
This was estimated, at the time, to cost $20,000 but the council decided not to proceed.
After the death this year, former council facilities and reserves manager Geoff Canham told the Bay of Plenty Times he believed if those improvements had been made "it might have changed things to have a much shallower fountain".
He said people tended to treat the fountain like a swimming pool because it was chlorinated and there was a general assumption that it was "safe to get into".
Canham said the child's death in May was "absolutely awful" and he hoped safety improvements to the fountain would made.
Flowers were left at the fountain at Memorial Park after a child drowned in May. Photo / Alex Cairns
A woman who was at Memorial Park when the child drowned in May said she had seen "so many" near-misses in the fountain and previously had to jump in to save a young boy who went under.
"All I want is to see the fountain is safer from now on if they're going to continue using it ... I don't think they should," she said, at the time.
Another person who was there that day said they believed the death was "a tragedy waiting to happen".
According to the Tauranga Historical Society, the Memorial Park fountain was unveiled on December 15, 1962, after volunteers gave up 5000 hours of their time over 27 weekends to build it.
The fountain received a $15,000 upgrade in 2009.
Flowers were left in the fencing around the Memorial Park fountain after the death of a child in May. Photo / Alex Cairns
Drowning is the leading cause of death in children under the age of 5, according to Water Safety NZ.
Water Safety NZ's children's water safety programme Under Five has recorded 150 child deaths from drowning in the past 20 years.
As of October 31 this year, there have been 75 drownings in New Zealand, outpacing previous years.
In 2022, there were 94 drownings which surpassed the 10-year average by 12 fatalities.
Water Safety NZ chief executive Daniel Gerrard said the figures underscored the critical need for heightened safety measures, especially as hotter and drier weather was expected.
Increased water-related activities could exacerbate the risks, Gerrard said.
Tauranga artificial water features
Memorial Park - fountain.
Coronation Park - small waterfall into ornamental pond with short water channels.
Robbins Park – ornamental pond.
Yatton Park – small waterfall, water channel and three small ponds.
Coast Reserve - ornamental pond.
Artwork – Durham St/Spring St intersection.
Fountain – The Strand waterfront/Devonport Rd/Spring St roundabout adjacent to both sides of the railway.
Splash pad on The Strand waterfront – the only site intended as a play feature for children.
Source: Tauranga City Council
Kiri Gillespie is an assistant news director and a senior journalist for the Bay of Plenty Times and Rotorua Daily Post, specialising in local politics and city issues. She was a finalist for the Voyager Media Awards Regional Journalist of the Year in 2021.
Take your Radio, Podcasts and Music with you