Mayor apologises for rewarding black face parade float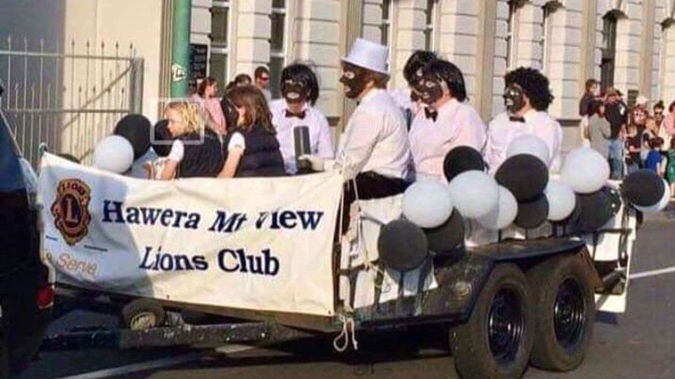 Mayor apologises for rewarding black face parade float
The Mayor of South Taranaki has apologised after he was on the panel that awarded second prize to a float featuring participants in black face.
Mayor Ross Dunlop admitted to awarding Hawera Mt View Lions Club a $300 prize after the groups entered the Taranaki A&P show on Friday.
Images of the Hawera Mt View Lions Club's float from Friday's event show six people dressed as black minstrels, surrounded by black and white balloons.
The float was playing the song Black and White by Michael Jackson. In a video of the event, the crowd goes silent as it goes past.
"People were saying 'is this really what I think it is'," Hawera resident Debbie Ngarewa-Packer said.
"Those who knew better were absolutely shocked. But there was just this total ignorance of the organisers that this would be offensive."
"That worries me in 2018. That we're back in the '60s with some of the cultural attitudes," she said.
Following criticism of the float, Dunlop revealed the club had been stripped of their second place finish and title money.
The Mayor of South Taranaki has apologised after he was on the panel that awarded second price to a float featuring participates in black face. Photo / File
However, it has been revealed he was one of the members on the A&P's judging panel.
In an email to media, Dunlop has apologised for the incident saying he "stuffed up" and is sorry for making a "big mistake".
Dunlop told Stuff he wasn't paying attention to judging and backed the Hawera float due to the good work they do in the community.
The Hawera Mt View Lions club has since been slammed on social media for their float, with many accusing the club of racism.
"Educate yourself [about] the definition of Jim Crow law and how inhumane American people treated African people who were not white, not privileged, not of status and were hung on trees for entertainment. So tell me Hawera, do we allow this mockery to continue?" one person said.
Another said: "How is parading around with a Hawera Mt View Lions banner attached to a trailer filled with Jim Crow characters even allowed?"
Initially, the club responded to criticism saying they "this by no means meant to be derogatory as a racist commentary rather a celebration of all cultures.
"What if these persons had been dressed up representing Māori wahine and warriors. Would that have been offensive too?
"This group of ladies work very hard for you the community and support all the diverse cultures within it. Let's not be too precious or PC. Next parade let's see you participate and join in the celebration ..."
After defending the float, they later apologised before removing their Facebook page entirely.
"Hawera Mt View Lions do sincerely apologise for the impression we made at the parade last night. We didn't set out to upset the community in the way it has."
When contacted by the Herald, the club refused to comment.
Compounding the controversy, at the same Hawera A&P show, one resident spotted a stall with golliwogs apparently for sale.
The mayor has yet to respond to the Herald's request for comment.