March through Porirua to honour Collins
Author

Publish Date

Sun, 14 Jun 2015, 6:10am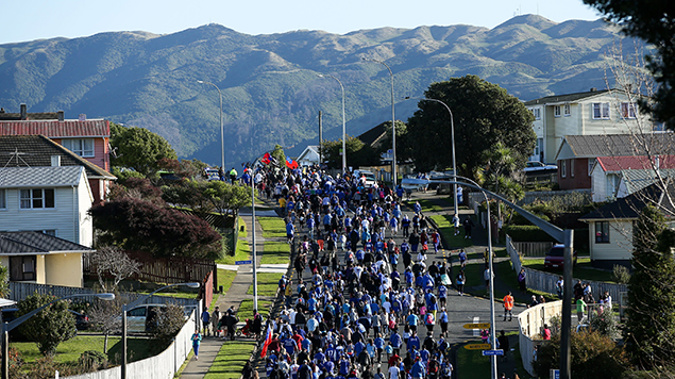 March through Porirua to honour Collins
Author

Publish Date

Sun, 14 Jun 2015, 6:10am
Updated 4.12pm: Hundreds of people have turned up to a memorial walk for Jerry Collins in Porirua today.
A big crowd dressed in the blue Norths colours started chanting "Jerry" at the 5km walk from Waitangirua Mall to the Porirua Trust Park
Laura Dooney reports the sun is shining for those who have come out to remember the rugby great in Porirua.
"Much of the crowd is dressed in blue and white, the colours of Jerry Collins' first rugby team, Northern United."
PHOTOS: March for Jerry through Porirua 
The Northern United under 13s team has turned out to walk.
One of the boys is Jerry Collins' cousin.
The boys said they want to be like Jerry, because he's got good steps and he was the captain of the Hurricanes, and also because he bought a house for his mum.
Nana of one of the players Tamara Leota said she'll miss everything about Jerry.
"I'm just going to miss him, he was a really good fella, he's a good player, support, everything."
The memorial walk went past the house he was raised in and his old school, and end at Porirua Memorial Park.
One of the organisers Izzy Ford affirmed everyone is welcome to come along and pay their respects.
"Not everyone is going to be able to make that funeral on Wednesday, so that will be a great way for them to share and say their final goodbyes as well."
Izzy Ford adds it's great way to get the community together, to grieve.
"And to be able to reflect on this person's life, who has contributed so much to Porirua, to our community. He went away a rugby legend and would come back and hang out as one of us."
Mark Conley is among the crowd paying tribute to Mr Collins.
He said Jerry Collins was a local hero who built the club up, after it had struggled in the early days.
For him Mr Collins was more than a contributor to the club - he was the face of Norths.
TradeMe Auction 
A photo-perfect drawing of Jerry Collins will be auctioned tonight on Trade Me.
Havelock North artist Aaron Jenkins started drawing as soon when he heard about the death of former All Black Jerry Collins and his partner Alana Madill in southern France last week.
Baby Ayla Collins was critically injured in the car crash and is now showing little improvements in a Montpellier hospital.
It took 14 hours of steady work to create the graphite, carbon and tinted charcoal image of Jerry Collins in his All Blacks kit.
The Trade Me auction closes at 6.14 this evening, with proceeds donated to an account set up in baby Ayla's name.
Bidding has reached $3050 this afternoon with 30 bids placed.