Locals brave freezing weather for Dunedin Team NZ parade
Author

Publish Date

Thu, 13 Jul 2017, 11:45am
Locals brave freezing weather for Dunedin Team NZ parade
Author

Publish Date

Thu, 13 Jul 2017, 11:45am
A drizzly Dunedin afternoon failed to keep the crowds away for Team New Zealand's victory parade this afternoon.
Thousands of fans lined the streets to cheer for their heroes, before joining them in the Octagon for the official welcome.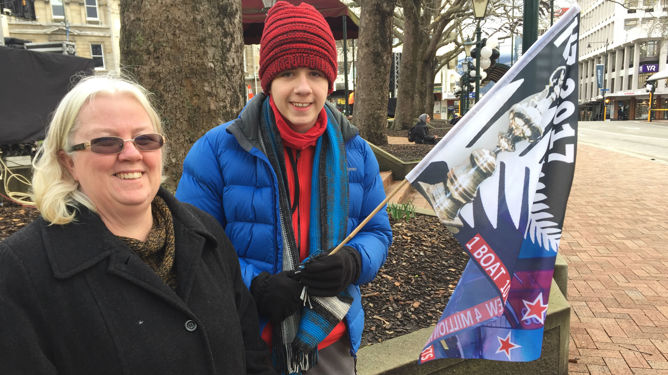 Antoinette Smitham and son Jonathan braved the cold weather for the parade. (Photo / Matiu Workman)
The Auld Mug, the Cup-winning team and the fans were then covered in confetti from a helicopter hovering above.
Chief executive Grant Dalton said he's been amazed by the reception down south.
"We were talking with people just before the parade started, [who were] saying a lot of the events don't come to Dunedin," Dalton said.
"From what I've seen today, I've got absolutely no idea why. It is amazing."
The 28 team members were welcomed on stage by mayor Dave Cull, who gave special recognition to Dunedin companies who also contributed to the America's Cup.
One to receive glowing attention was Animation Research Limited chief executive Ian Taylor. Two years after starting in 1989, the local company started developing real-time virtual yachting animation for the Americas Cup in San Diego.
Mayor Cull also praised the thousands who came out to support the team less than 24 hours after a wintry snap blasted through the city.
Speaking ahead of the parade, helmsman Peter Burling said it was great to be able to take the Auld Mug south.
"It's a big part of New Zealand yachting and there's obviously a lot of history from Dunedin in yachting." Burling said.
"It's pretty exciting to see how many people are turning out, and it's great to get this far south."
The parade was the last of four for the 28 members of Team New Zealand before they return to their families.
For Burling, there was one thing on the radar when asked what was next.
"Probably sleeping now, mainly."