Livingstone Inquest: Suicide note presented
Author

Publish Date

Thu, 23 Apr 2015, 10:00am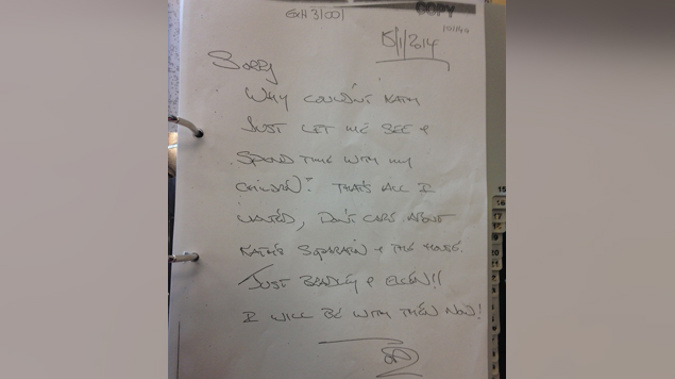 Livingstone Inquest: Suicide note presented
Author

Publish Date

Thu, 23 Apr 2015, 10:00am
UPDATED 3:58PM: The existence of a suicide note from Edward Livingstone has been revealed at a Coroner's inquest in Dunedin.
The court's heard it was written the day he killed his children.
The inquest into the deaths of Livingstone and his son and daughter Bradley and Ellen has entered its third day.
Livingstone had a protection order out against him at the time of the deaths, and he had to be supervised by Barnardos staff when seeing his children.
The note dated the day of the killings, says he just wanted Bradley and Ellen and now will be with them.
A doctor who penned a report into the Southern District Health Board's handling of Edward Livingstone, believes more information should have been gathered about his state of mind.
Edward Livingstone was seen by a number of clinicians, but Dr Chaplow believes he should have been seen by a team which takes a broader approach.
"[A team] should be involved in cases where flags have been raised. There was the rape flag, but there were a number of flags and we knew about the restraining order for example." 
A Barnardos contact officer described Edward Livingstone as manipulative and intimidating.
Contact officer Rebecca Cadagon told the court when she cancelled a session because of fears about Livingstone's health she saw a different side of him.
Cadogan told the court she heard of the deaths while she was out of town. 
"The morning after it happened I was in Auckland and I heard it over the radio and I didn't know who it was and my guy automatically told me that it was them, that it was Edward." 
Meanwhile, The Department of Corrections says the fact Edward Livingstone was discharged without conviction over his protection breaches was a key reason he kept his job.
The Department gave Livingstone a final warning after it investigated his breaches.
The children's mother's lawyer Anne Stevens asked Mark Godwin if the court's decision influenced how it censured Livingstone.
"If the convictions have been entered the out outcome could well have been dismissal."