As it happened: Team New Zealand's America's Cup victory parade
Author

Publish Date

Thu, 6 Jul 2017, 12:06PM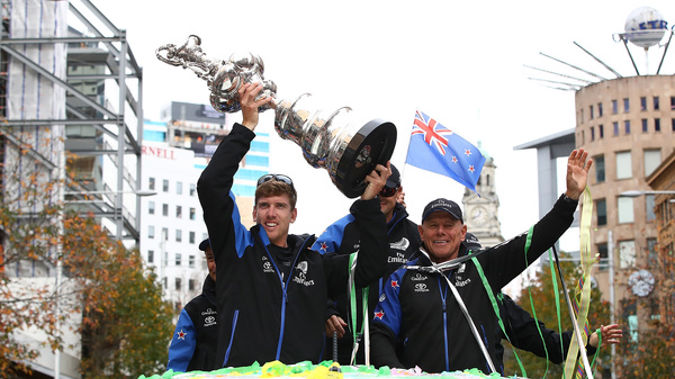 As it happened: Team New Zealand's America's Cup victory parade
Author

Publish Date

Thu, 6 Jul 2017, 12:06PM
Note: Mobile and app users can view the stream here
Fans are going wild for Team NZ at their America's Cup victory parade in central Auckland.
It's pouring down but that hasn't stopped this party as fans packed into bars and people linined the streets with flags and homemade signs, some saying "marry me".
PHOTOS: America's Cup parade
After riding down Queen Street, and speeches at the Viaduct, the team and their support crew took the Auld Mug onto the water, beginning their victory lap of Auckland's harbour.
The crowd's excitement was palpable as the athletes and trophy sail past, with screams and cheers only getting louder.
Other boaties showed their support, waving New Zealand and All Blacks' flags from the decks of their yachts.
Team New Zealand boss Grant Dalton earlier confirmed to the crowd they'll be heading to Wellington on Tuesday, Christchurch on Wednesday and Dunedin on Thursday.
And it doesn't stop there.
He said they will make sure, in conjunction with their sponsors, they'll tour the cup to the provincial centres, saying "the heartland of New Zealand where the real people live.
Dates for the heartland tour are still be be confirmed.
Team NZ helmsmen Pete Burling's parents Heather and Richard Burling were at the Viaduct to cheer on their son.
"It's unbelievable what they've done, what the team's done," Richard told Tony Veitch.
Peter Burling and his Emirates Team New Zealand are parading along Auckland's Queen St with the Auld Mug before taking to the harbour.
It is the first time since 1995 that the America's Cup has landed on New Zealand shores and fans were keen to welcome the cup home.
Follow our coverage and embrace the atmosphere no matter where you are.