2018 Anzac Day commemorations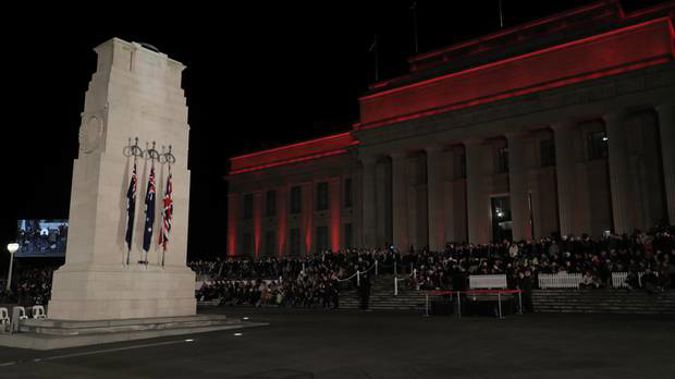 Thousands of New Zealanders are expected at Anzac Day dawn ceremonies across the country this morning to honour the sacrifices and valour of our servicemen and women.
Today marks 103 years since New Zealand and Australian troops - Anzacs - landed on the shores of the Gallipoli Peninsula, in Turkey.
READ MORE: Find your Anzac Day Service here
READ MORE: Newstalk ZB's full guide to Anzac Day 2018
Since 1916, April 25, Anzac Day, has been the day for New Zealanders to honour the more than 300,000 New Zealanders who served their country and the 30,000 who died. It has been a public holiday since 1921.
At home and offshore today will be dawn parades, civic services and the laying of wreaths at memorials - including at the Ataturk Memorial on Wellington's coastline.
The biggest turnout is expected in Auckland, with dozens of planned ceremonies, but many of even our smallest communities will host ceremonies marking the special day.
The largest Auckland service will be at Auckland Domain, with a parade commencing at 5.45am and service beginning at 6am.
A civic service will follow from 10.30am.
A beautiful morning is forecast for Anzac Day dawn parades throughout the country, but those attending might want to rug up.
Clear skies overnight meant temperatures were forecast drop to freezing in places, MetService forecaster Tuporo Marsters said.
"It will be a cold start, especially out east, with frosts inland on the central plateau in the North Island and central South Island."
Out west in the North Island a slightly warmer, but more cloudy start was predicted.
There was a slight chance of a brief shower in western areas early morning, including Auckland.
However, that won't last long as mostly sunny and fine weather throughout the country is forecast, with temperatures in the late teens to early 20s.
Anzac Day weather
Whangarei
Morning cloud then fine. Southwesterly breezes. 21C high. 11C overnight.
Auckland
Mainly fine, chance early shower. Southwesterlies dying out. 20C high, 10C overnight.
Hamilton
A fine day apart from morning and evening cloud. Southwest breezes. 20C high, 6C overnight.
Tauranga
Morning cloud clearing to a fine day. Southwest breezes. 21C high, 10C overnight.
New Plymouth
Chance morning shower, then fine spells. Light winds. 18C high, 10C overnight.
Napier
A fine day. Light winds. 20C high, 6C overnight.
Wellington
Morning cloud then fine. Northerlies developing. 17C high, 11C overnight.
Nelson
Fine. Southwest breezes. 19C high, 8C overnight.
Christchurch
Fine. Northeasterly developing afternoon. 16C high, 5C overnight.
Dunedin
Fine, apart from morning cloud. Southwesterly dying out morning, northerlies developing afternoon. 15C high, 10C overnight.