Kiwi spotted on Rangitoto Island for first time
Author

Publish Date

Wed, 15 May 2019, 2:10PM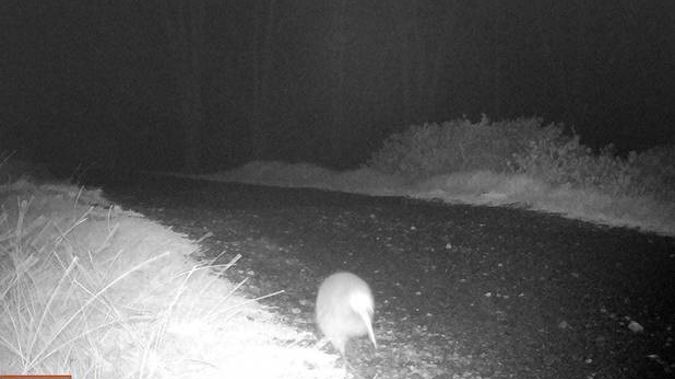 Kiwi spotted on Rangitoto Island for first time
Author

Publish Date

Wed, 15 May 2019, 2:10PM
After 600 years, kiwi have finally made it to Rangitoto Island in the Hauraki Gulf with one plucky bird caught on camera crossing the causeway from nearby Motutapu Island.
The photo was posted to Facebook earlier this week to much celebration and comments including "great news" and "must be off to use the bach!"
Duncan Watson, from Motutapu Outdoor Education Camp, posted: "With over 100 kiwi on Motutapu it was only a matter of time before one got the pip and headed for new frontiers."
"Hope he (or she) has her heavy duty jandals on board... bit rocky over there."
A DOC spokesperson told the Herald: "It's the first photo of a kiwi on pest-free Rangitoto since Kiwis for Kiwi and DOC began releasing Coromandel brown kiwi on neighbouring pest-free Motutapu in 2012."
"Rangitoto is a young volcano. It erupted out of the sea and has been the site of at least two eruptions, the last occurring about 600 years ago so we doubt kiwi have ever lived on Rangitoto in the past."
The photo was taken by DOC Ranger Mel Whiting and shows the kiwi walking on the gravel road at the Rangitoto end of the causeway in the early hours of the morning, likely foraging for food.
Motutapu and Rangitoto were declared free of rats, stoats, possums and other introduced predators that eat the eggs and chicks of native birds, in 2011.
According to DOC, all kiwi struggle to survive in areas without predator control and only 5 per cent of wild-born kiwi chicks survive to adulthood in areas where predators are not controlled.
NZ's kiwi population currently stands at around 70,000 but numbers have been falling at a rate of 2 per cent each year, putting the species on a path to extinction within just 60 years