Kaumatua Sir Graham Latimer dies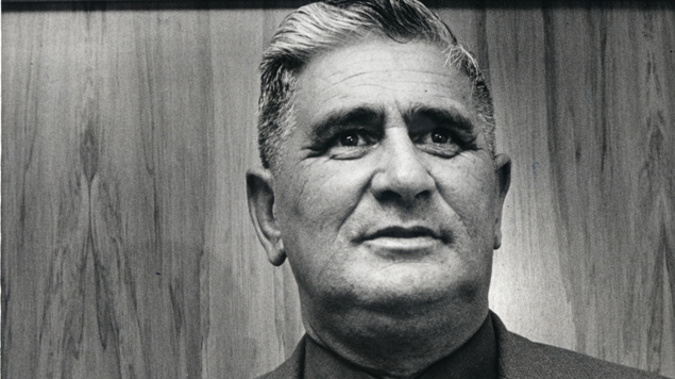 Kaumatua Sir Graham Latimer dies
UPDATED 2.55PM: Northland kaumatua Sir Graham Latimer has died at the age of 90.
Mr Latimer, a former National MP, was president of the New Zealand Maori Council from 1973 and in 1977 he was appointed one of the first three members of the Waitangi Tribunal.
He was chairman of the Crown Forest Rental Trust from 1990, and a member of the Treaty of Waitangi Fisheries Commission between 1993 and 1998. He retrieved tūpuna Māori from an English auction house in 1988, and stopped the public sale of human remains.
His wife Lady Emily Latimer passed away in September last year.
Former Labour List MP and Cabinet Minister Shane Jones said Sir Graham's death left a huge hole in Māoridom.
''The Northland kauri tree has fallen. Sir Graham led the way for me and many other Maori. Many are the tribes and families who have benefited from Sir Graham's leadership and dedication to the development of Māoridom and the wider country,'' Mr Jones, the Pacific Islands trade commissioner, said.
''From serving in  World War Two through his time in Parliament and leadership of the Waitangi Tribunal he has fulfilled all the leadership roles his elders called on him to do and he did them all extremely well.''
Whether it be Māori broadcasting, Māori fisheries, Maori land claims or Māori TV Sir Graham had had a huge influence on them all, he said.
''And a craftier politician you have never encountered, and he remained till the end a staunch leader of Māoridom and an arch pragmatist,'' Mr Jones said.
Prime Minster John Key said his work for all things Māori was tireless, describing Latimer as "someone that made a real contribution...was a great advocate of Māori rights, Māori interests."
"I had the opportunity to meet him on numerous occasions in the time that I was Leader of the Opposition and Prime Minister...I think his family will be very proud of what he's achieved."
Sir Graham was born on the Aupouri Peninsula, February 7, 1926 - third son of Lilian and Graham Latimer.
Sir Graham had a leading role in making the Treaty of Waitangi a cornerstone of modern New Zealand society. Its revitalisation has returned resources to Maori, improved race relations and given the country a sounder footing in a 21st century frowning on colonial exploitation of indigenous people.
Sir Graham was 14 when he went to Waitangi with his parents for the Treaty centenary in 1940. His main recollection of the day was getting ``whacked around the legs'' by his father - also named Graham - and told to behave.
In Auckland after the war and later when he worked on the railways at Kaiwaka, Sir Graham was schooled by Ngati Whatua elders and, following his appointment to the New Zealand Maori Council in 1964, they told him to promote the Treaty, which they feared could be removed by legislation.
The elders had told Sir Graham to work with the Anglican Church and the National Party, but it was the Labour MP for Northern Māori, Matiu Rata, who became his political ally.
The four Māori MPs had been pressing for greater recognition of the Treaty, but their sway in government was limited. It was the Minister of Māori Affairs who wielded the real power in Maori matters in Parliament. When Mr Rata got the ministerial portfolio in 1972 he steered through some significant measures, including the creation of the Waitangi Tribunal in 1975.