NZ's seas are still running warm - why?
Author

Publish Date

Tue, 25 Apr 2023, 12:21PM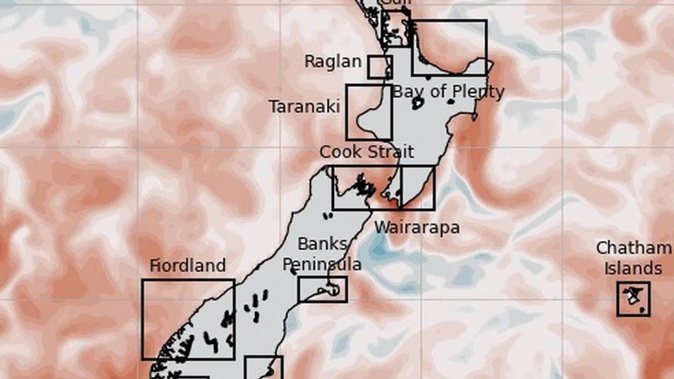 NZ's seas are still running warm - why?
Author

Publish Date

Tue, 25 Apr 2023, 12:21PM
With winter closing in fast, New Zealand's seas are still running abnormally warm - something scientists are partly putting down to La Niña's aftermath.
Marine heatwave conditions have been common features around our coasts over the past few years, with sea temperatures in some regions reaching record warmth.
This extra ocean heat has helped melt our mountain glaciers, driven tropical fish into colder climes, contributed to mass sea sponge die-offs and pushed up temperatures on land, while also further energising incoming storm systems.
Yet, with our dominant climate regime now having shifted from La Niña, and the winter season just a month away, scientists are continuing to observe some striking anomalies in our ocean environment.
The collaborative Moana Project's latest forecast found that, although sea temperatures were falling, many coastal North Island regions were sitting on - or just below - the threshold of a marine heatwave.
Meteorologists consider a marine heatwave as sea surface temperatures that stay in the warmest 10 per cent of historical observations for at least five days.
The forecast also predicted strong marine heatwaves around the Chatham Islands and Stewart Island this week, with temperatures potentially reaching up to 1.5C above normal.
Image / MetOcean Solutions
Moana Project director Dr João de Souza said there were several factors behind the lingering heat.
One was that the Southern Ocean - and the region around New Zealand in particular - had been warming at a stronger pace than most other regions around the globe since 2012.
"This is manifested, for example, in high subsurface temperatures in the Tasman Sea that have been correlated to marine heatwave events in New Zealand," de Souza said.
At the same time, the lagged influences of a now-faded La Niña climate system were still being felt, and bringing overall high sea surface temperatures to the entire Southwest Pacific Ocean.
"When we add these pre-conditions to a particular atmospheric state that favours the warming of surface waters, a marine heatwave event is triggered," de Souza said.
"Consequently, in the last year we often saw temperatures at or exceeding 90 per cent higher values observed around New Zealand for the last 30 years."
Some of the most recent extreme observations included sea temperatures soaring to 5C above normal at the southern tip of the South Island in summer - and swathes of the southwest coast running even hotter than parts of the balmy eastern shores of the Far North at times.
Last year, scientists were alarmed to discover millions of sea sponges in Fiordland had turned from velvet-brown to bone-white - making for one of the worst bleaching events documented among sponge species anywhere.
That came with heatwave conditions being observed well below the surface, at depths of between 100 metres and 200m.
Similar measurements had been found in the Bay of Plenty, which experienced a record-breaking marine heatwave that lasted for longer than a year.
In the Hauraki Gulf, meanwhile, there was speculation that warmer waters were indirectly contributing to milky flesh being found in snapper.
For our local weather, warmer seas had broad implications, Niwa meteorologist Chris Brandolino said.
"Generally speaking, our ocean temperatures are closely linked to our air temperatures," Brandolino said.
"So, if our ocean temperatures are running warmer than average - especially if it's at an appreciable level - that's going to load the dice for air temperatures to run warmer than average.
A bleached sea sponge in Fiordland, where sea temperatures recently soared to 5C above normal. Photo / Victoria University
"At the same time, it can take sharpness away from, or reduce the longevity of, cold snaps.
"The other facet is it can provide additional water vapour to the atmosphere, which can mean more moisture - or more fuel - for heavy rainfall events."
While a widely-anticipated El Niño is likely to spell cooler air temperatures over coming months - on the back of more southerly winds in winter and south-westerlies in spring - the longer-term outlook for sea temperatures wasn't immediately clear.
"With the Earth transitioning out of La Nina phase, we have one last forcing for the warming of sea surface temperatures around New Zealand," de Souza said.
"However, the subsurface temperatures take a longer time to respond. This means that subsurface marine heatwaves that have a weaker surface manifestation are possible.
"Moreover, the reigning warming trend in the larger southwest Pacific means that favourable weather conditions can still trigger a surface marine heatwave."
As part of the Moana Project, MetService was investigating extended forecasts for marine heatwaves and planned to be providing them later in 2023.
As our planet continues to warm, marine heatwaves are expected to grow longer, stronger and more frequent.
Recent research has suggested that, by 2100, the 40-odd marine heatwave days we currently see in a normal year will increase to between 80 days in a low-emissions, best-case scenario - and a worst-case 170 days.
For some regions, such as the southern tip of the South Island, there was also a high chance that marine heatwaves began to last more than a year.
Take your Radio, Podcasts and Music with you