Horror crash: Driver 'didn't know car was pink stickered'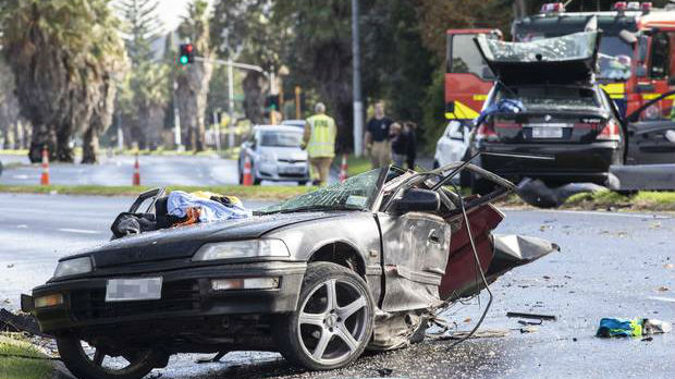 The driver of an unwarranted car involved in a horror crash in Auckland had purchased the vehicle just days earlier - and did not know it had been pink stickered, his family claims.
The horror two-car crash in east Auckland yesterday morning landed a young girl in Starship Hospital with serious injuries.
Two other people were injured - one seriously and one moderately - in the crash, which happened on Ti Rakau Dr in Pakuranga about 9.25am on Sunday.
The two cars were a late model black BMW and a 1990 Honda Civic. The Civic was torn in half by the crash impact and the key Auckland road was closed as the Serious Crash Unit investigated.
According to online records, one of the vehicles involved had failed a warrant of fitness just six days ago.
A crash witness said he understood one of the vehicles - believed to be the Honda Civic - was "pink-stickered" some days before the crash.
A pink sticker directs that the vehicle is not to be driven on a road, and may be issued to the driver or owner of a vehicle by an enforcement officer who believes on reasonable grounds that a vehicle is not in a safe condition to be driven on a road.
According to an NZTA guide online, it was an offence to remove a pink sticker before new evidence of vehicle inspection for the vehicle had been obtained.
Anyone found to have removed such a sticker, or who had driven a vehicle which was pink stickered, could be liable for a fine of up to $10,000.
The sister of the man driving the Honda Civic, who did not want to be named, said her brother was a Te Kuiti local and had a 1-year-old son.
He had purchased the car from Te Kuiti just days ago, she said, and did not know it had a notice or any compliance issues.
"That's what he told us... he said he didn't know," the sister said.
"He had nothing to do with the pink sticker being removed from the windscreen either."
The woman, who had just moved from New Zealand to New South Wales last week, said her brother had come to Auckland to spend Mother's Day weekend with their family.
He had arrived on Friday night, she said, and had planned on leaving on Sunday night.
He was now in a stable condition in Middlemore Hospital - where a patient from the other car was also recovering.
The sister said it was fortunate everyone had survived the accident and was in a stable condition.
"I'm really lucky to not have lost my brother yesterday," she told the Herald.
"He also was not under the influence of alcohol or drugs at the time of the incident."
A spokeswoman from Auckland District Health Board confirmed the young girl injured in the crash had spent the night in Starship Hospital and is now in a stable condition.
Witness Kenneth Lin was out jogging with his wife around 10am when he heard a loud crunch and his wife heard an "explosion".
"We heard a bang while we were out jogging, it sounded like an explosion.
"By the time we reached the scene the guy who was driving the car in two pieces was being helped by a group of cyclists."
The injured man was standing more than 30m from the front half of the Civic, bleeding from the forehead.
Lin said it looked as though the Civic was turning from Ti Rakau Drive onto Edgewater Drive when it was in a collision with the BMW travelling on Ti Rakau.
* Police asked people with any information about the incident or were witness to the crash to contact Kylie Newton at [email protected] or call him on 09 261 1300.