Heroic bystander on why he helped cop
Author

Section

Publish Date

Friday, 29 December 2017, 7:50p.m.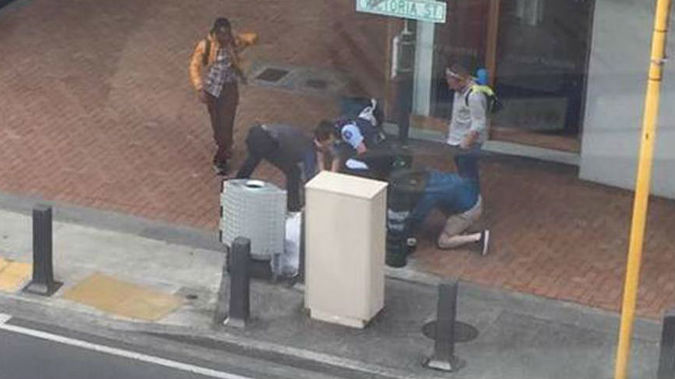 A bystander who intervened when a police officer was struggling to restrain a man says he didn't stop to think, instead acting on instinct.
Martin Stokes, his wife Sarah and their two young children had just finished watching a movie in Wellington city when they came across a police officer "wrestling" with a man on Chews Lane.
"I yelled out 'do you need any help' and she said yes so I went in and helped her," Stokes told the Herald.
"You wonder how you might react in a situation like that and I haven't been in a situation like that before, but it was quite instinctive. You just do it."
A couple of other passersby joined Stokes and with the extra help the officer was able to restrain the man.
"Within 15 or 20 seconds actually getting him on to the ground and subdued, some of her colleagues ran across from the central police station, they came over and carted him away."
Stokes said his children, aged 5 and 8, had felt anxious seeing the scene unfold, and he said afterwards he told them that while they didn't know what the man had done wrong, they should always try to help the police if they could.
"It was obvious that she [the officer] had made the decision that he needed to be restrained and she was struggling to do that, so we would help her and he could explain himself later.
"I just said if you get the opportunity to help, do."
Martin Stokes with wife Sarah Shadforth-Stokes. Photo / Supplied
Sarah Stokes said she had originally been a little anxious about her husband stepping in because their children were with them and she didn't know if the man being arrested was armed.
But today she felt proud.
"I was so proud of my husband. Just going in there, right away helping a police officer. Not everyone can do that."
She wasn't the only one to express pride in Stokes' actions.
A caption on a photo shared on the Wellington District Police Facebook page called those who intervened "superstars" for helping.
"These members of the public pictured didn't bat an eyelid, they jumped in to assist this constable.
"They could clearly see she was overpowered and helped her till backup arrived, which I assure you was seconds away.
"I don't know who you are, but you guys are superstars in my books," the poster wrote.
"So often we hear of people seeing something and doing nothing and unfortunately our officers are getting hurt all over the country just trying to do their jobs.
"Had these people not helped, how different could this situation have been?"