Overnight deluge - heavy rain soaks Auckland commuters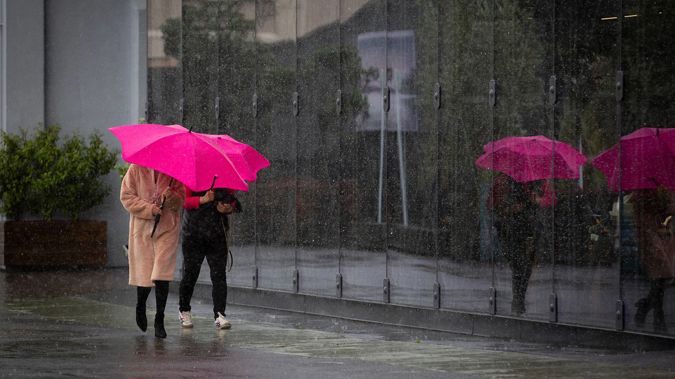 Overnight deluge - heavy rain soaks Auckland commuters
Auckland has copped an overnight soaking, amid warnings of heavy rain today as kids return to school.
Tāmaki Makaurau has been drenched in heavy rain overnight as an active front moves up the country from the South Island - bringing wet weather and strong winds to the city's morning commute.
The torrential rain is not expected to let up until at least after rush hour.
The region is under a heavy rain warning and strong wind warning, with between 50mm to 80mm of rain set to accumulate until about 11am in the Auckland area including Great Barrier Island.
Peak intensities of 15mm to 20mm/h are expected and locals are told to watch for the possibility that the situation will become an "orange warning".
Motorists are experiencing challenging levels of visibility on motorways in the predawn downpour.
Motorists urged to drive to the conditions
Strong winds and rain would arrive in Auckland and Northland this morning, the MetService said and commuters should: "Stay safe and drive to the conditions."
Motorists are experiencing challenging levels of visibility on motorways in the predawn downpour.
Road authorities issued a statement just before 7.30am.
"With MetService predicting heavy rain and strong winds this morning, please take it slow, keep your lights on and increase your following distance on the roads today," Waka Kotahi NZ Transport Agency said.
People are advised to allow for extra time for their usual morning commute.
The strong wind warning in Auckland - including Great Barrier Island - is not expected to lift until 11am.
"Northeast winds are forecast to rise to gale in exposed places, with gusts reaching lower warning threshold of 90 to 100km/h especially in eastern areas," MetService said.
Fiordland has a strong wind warning as well. Severe gales are forecast in exposed parts, gusting up to 130km/h.
Northland is also forecast to get a similar deluge until about 9am, especially in the north and east. Peak intensities of between 15mm to 25mm/h are forecast and there is also a possibility of thunderstorms.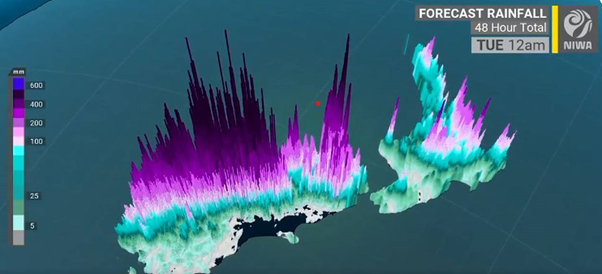 Heavy rain warnings are in place for many parts of the country this morning. Image / NIWA
Heavy rain warnings are also in place over the Coromandel Peninsula, Bay of Plenty west of Ōpōtiki and further south in Nelson northwest of Motueka and Westland south of Otirā.
Fire and Emergency NZ communications centres around the country reported no weather-related call-outs overnight or today, as of 6.30am.
MetService meteorologist Ashlee Parkes said the front bringing the gloomy weather this morning was "quite active" early on and is not forecast to move away until about midday.
She said overnight, Auckland had seen some heavy rainfalls, with many areas getting about 20mm of rain between 4am and 5am.
Other parts of the city saw up to 15mm in the hour between 5am and 6am.
Between midnight to 6am, Auckland had seen around 40mm to 42mm of rainfall, she said.
The strong wind warning in and around the City of Sails was also something to be aware of if you are heading out today.
Aucklanders are in for gusts reaching between 90 to 100km/h until about 11am. The Harbour Bridge is forecast to get maximum gusts of about 40km/h.
Early this morning, the area around the Auckland Airport was reporting winds of up to 60km/h, while the area around the Sky Tower was said to be "quite windy", blowing gusts of about 70km/h.
Trees down in South Island
State Highway 6 between Kohatu to Glenhope is currently closed due to fallen trees.
No detour is available and the NZTA is asking people to avoid the area or delay their journey if possible.
While the rain will not be as heavy as last weekend's deluge, forecasters are warning areas that are already waterlogged are in the firing line again.
MetService has heavy rain warnings in place for parts of Nelson and Westland, where up to 150mm of rain could accumulate about the ranges. The warnings are in place until this evening.
The warnings are in place from around 8pm Sunday until this evening.
Streams and rivers could rise rapidly and surface flooding and slips are possible, the warnings say.
The NZTA is warning those north-west of Nelson and through Marlborough to take extra care this morning as they set off for work.
"Drive to the conditions and be aware that there could be slips, surface flooding, or debris on the road which will be hard to see overnight.
"Our crews will be out and about monitoring the roads but we need everyone to take extra care," a spokesperson said.
Heavy rain is due for inland Marlborough, the Tasman district and parts of Buller, where the ground's already saturated.
The Marlborough Emergency Operations Centre say it is keeping an eye on the weather system
"Our emergency response teams will continue to monitor already compromised areas and we will continue to liaise with MetService and NIWA for the latest weather information," incident controller Dean Heiford said.