Hamilton teachers still reeling after lightning strike
Author

Publish Date

Tue, 4 Dec 2018, 4:38PM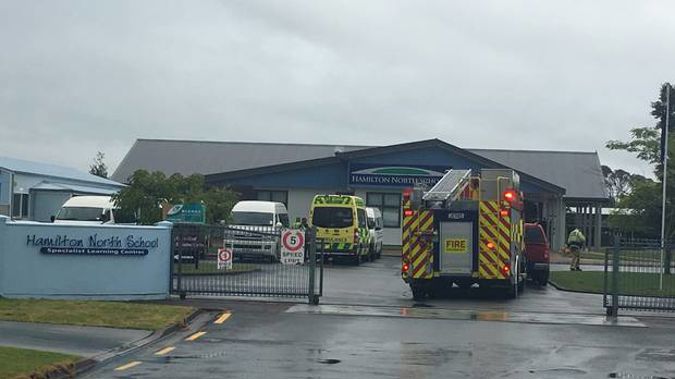 Hamilton teachers still reeling after lightning strike
Author

Publish Date

Tue, 4 Dec 2018, 4:38PM
Teachers in a Hamilton classroom struck by lightning are still feeling the aftermath of the shocks today.
Three teachers and eight students were in a classroom at Hamilton North School struck by lightning about 1.30pm on Monday afternoon. Another teacher in a classroom 300m away but also in the path of lightning was also taken to hospital after experiencing tingling in their arms.
The teachers were all discharged from Waikato Hospital last night.
Hamilton North School principal Tony Kane said they were improving, but a couple of them returned to the hospital today for more tests because they had pains in their arms.
"They have been told that this should go in a few days. They have been off school today and will likely be off for the rest of the week."
The lightning bolt struck a rugby goalpost before travelling along the ground and connecting with the fence of the school's tennis court before hitting the classroom and striking the four teachers.
Kane said they were shaken, but back up and running today.
Internet access and fire safety indicators fried during the lightning were still being repaired.
This morning Auckland felt the brunt of a dramatic lightning storm that caused flights to be cancelled and delayed and houses to shake.
A woman at Happy Campers in Mangere collapsed and was hospitalised after a lightning strike.
About 2000 lightning strikes in Auckland this morning, according to MetService.
The bad weather is expected to move down to the South Island from this afternoon and into tomorrow.
A severe thunderstorm watch has been issued for Buller, Westland and Fiordland, and another is in place for Clutha and Southland.