Hager gets a victory
Author

Publish Date

Fri, 18 Mar 2016, 2:09pm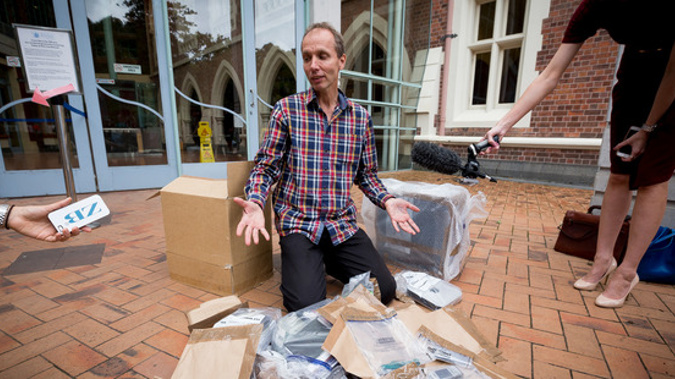 Hager gets a victory
Author

Publish Date

Fri, 18 Mar 2016, 2:09pm
UPDATED: 4.59PM A victory for the investigative journalist Nicky Hager.
He's emerged from the High Court at Auckland clutching smashed clones of a computer hard drive and memory card which were seized during an unlawful police search of his home.
Hager hopes it'll reinforce protections for journalists and their sources, and prevent further "Rambo-style" raids.
"I'm still gob smacked that police thought it was reasonable to arrive like Rambo and spend 11 hours doing over my house where they found nothing they wanted for their research.
"It was completely and utterly over the top."
Hager said he hoped the court case would ensure people weren't afraid to share information with the media.
He is confident there will not be a repeat of the experience he has gone through.
"I strongly believe that there will be no Rambo police raids into anyone like me or other parts of the media for a long time now, they've learnt their lesson.
"They've lost comprehensively, and they'd have to be fools to do it again."
Hager described the "surreal" scene in which a police clone of his hard drive was destroyed.
"We went down to the basement of the high court building here into this narrow room without lights on and the police held torches around while one of the detectives destroyed the material of which they had copied from the house.
"The detective took an orange-handled hammer and he hit the hard drive 213 times, and then he took bolt cutters and put holes in it.
"I am obviously pleased about this as this is my work, this is my future projects, this is my livelihood... Now they'll never be able to have it.
"We'll be walking off with it untouched, in our hands, safe forever."
Watching the copies of his equipment being destroyed, Hager said he felt he was "watching history going on".
"With each blow of that hammer, it was hitting home that the positives of this court case are they're now better protections, better legal protections for the media."
Police seized his computer equipment and files in 2014, when they were trying to identify the hacker who supplied information for Mr Hager's Dirty Politics book.
Hager said this was the final stage of the court case which had stemmed from the raid in 2014.
"This has been a long 17 months, and I'm eternally grateful to my lawyers and I'm very grateful to the people from the media and elsewhere who were my witnesses.
"There are also hundreds of New Zealanders who have money towards the case because it cost a tremendous amount for this, and I hope they are joining in the sense of triumph today."
The saga is not quite yet over for Hager, who said he expects to return to court for further issues with police behaviour.
"We've got a few things where we think the police were tricky while they were in the house... We've got more things to come, so the court case is not over... Where they went through my bank accounts and other kinds of data."
But his lawyer Steven Price said Mr Hager faces yet another hurdle.
"It's the question about whether it's lawful for the police to go to banks and get them to turn over people's bank records, as they did with Nicky, without a court order. That's something that may affect thousands of people as the Privacy Commissioner has found recently".
Steven Price said they're talking with the Crown, and it's likely there'll be a hearing later this year.