Gloriavale leaders "told mother what to say" when daughter choked to death
Author

Publish Date

Tue, 16 Aug 2016, 12:41pm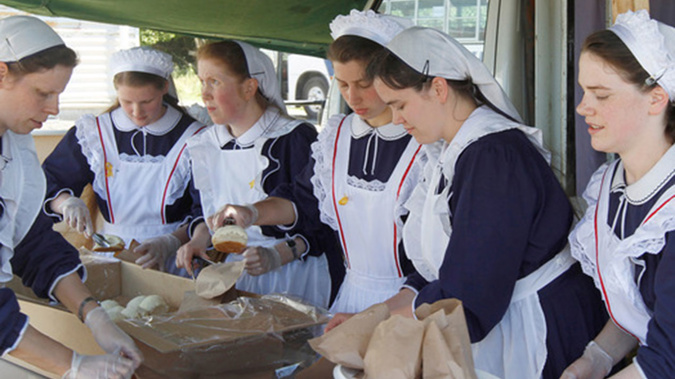 Gloriavale leaders "told mother what to say" when daughter choked to death
Author

Publish Date

Tue, 16 Aug 2016, 12:41pm
UPDATED 2.06pm: The mother of a teenage girl who choked to death while shut in an isolation room at Gloriavale Christian Community was pressured by commune leaders into what to tell investigating authorities, it has been claimed.

The death of 14-year-old Prayer Ready, who had Down syndrome, has rocked the reclusive, shut-off Christian community at Haupiri, inland from Greymouth on the South Island's West Coast.

She died after choking on her dinner in June last year while in an isolation room where the door handles had been disabled to prevent people getting in and out, according to a coroner who ruled it as being a tragic accident.

But the daughter of Gloriavale leader Neville Cooper, who walked out of the commune in 2010 with her 10 children after 41 years, says the tragedy has divided the community's 500-plus members.

Miracle says she knows that people inside Gloriavale, including family members, are "very upset" by the circumstances surrounding Prayer's death.

"I know people who could be on the verge of leaving because they are very upset about it," she told the Herald today.

Prayer's mother Sharon Ready, who was caring for four other children with their father Stephen Ben-Caanan, was there when she died.

They had been placed in the isolation room to stop infection spreading after their baby brother had been hospitalised with what Gloriavale described as an "infectious and dangerous disease".

In her statement to police, Prayer's mother said she thought her daughter was eating the beef schnitzel too fast and then saw that she was choking.

Prayer started walking towards her and led her to the bathroom.

"I realised she was choking and she was still standing and conscious. I wanted to do the Heimlich. I called out to Stephen who tried doing it but it didn't work. Stephen then went to go and get some help."

The adults were unable to get out of the room through the door due to pieces of the door handles being purposely dismantled, but Ben-Caanan crawled out of the window.

A number of people arrived including Prayer's father Clem and brother David, but she was unable to be resuscitated.

Coroner Marcus Elliott, in his findings, did not think the fact people could not enter or exit the room through the door contributed to her death.

He said members of the community had been able to enter the window easily and had been told a chair had been put under the window to act as a step.

Miracle was shocked by the death. The fact the door handles had been disabled would've concerned the leaders and prompted attempts at a cover up, she believed.

"I know the mother would've been ... or I know she was... told what to say," Miracle said.

"[The leaders] don't like any spotlight. They would've been cooperative [with police] but they would've been careful not to give any information that shouldn't be given.

"The mother has been through an awful lot over it. She was there and knew everything that happened. She would've been under a lot of pressure to just say what they wanted her to say. That was probably hard for her.

"She would've been given strict orders. From my experience, I know how the ball rolls. I know she would've been told how to write her report, what to say."

Her brother Phil Cooper, who wrote an explosive book on the commune called, Sins of the Father, escaped the sect in 1989.

Cooper agreed the family would've been told what to say by leaders who are "great at covering things up".

"The normal scenario is you do what you are told," he said.

"You are told what to say, what not to say, and you conform. There is no law. Or, they are the law.

"The feelings and the emotions are all contained."

Miracle says the medical knowledge and expertise inside Gloriavale is "extremely good", with well-trained people including certified midwives.

High medical standards, as well as health and safety procedures, are kept, in part to keep the authorities away from the commune.

The isolation rooms are designed to control epidemics, she said, including vomiting bugs and school sores.

But those in charge of the isolation areas can be extremely strict, Miracle said.

"People didn't like going into isolation. It wasn't a nice thing to be put into isolation."

Gloriavale told the coroner that following Prayer's death it had stopped disabling doors to isolation rooms.

It had also had training on using Magill forceps to remove foreign objects and had obtained a pair of the forceps which were suitable for removing things from the throat.

The Ministry of Health is reviewing its guidelines relating to the management of children, young people and adults with Down syndrome to include specifically mentioning choking risk.

A Gloriavale spokesperson declined to comment.
Police today confirmed they responded to the death at Gloriavale on the night of June 4 last year after being called by the prime nurse at the scene. 
"As per any death that police are called to, a normal investigation was carried out," a spokesman said. 
"The community were cooperative throughout in assisting police with their inquiries.
"There were no suspicious circumstances identified and the matter was referred to the coroner."
Neville Cooper has been the leader of the isolated community for over 40 years. He served 11 months in prison in 1995 on sexual abuse charges.

Members of the community previously believed he was jailed for preaching the gospel.

Founded in 1969, Gloriavale relocated from its original North Canterbury site in Cust, where it was known as Springbank Christian Community, to Haupiri in 1991.

The community is totally self-contained, with little contact with the outside world. Access to media and the internet is heavily restricted.

Limits are placed on clothing and diets, marriages are arranged informally, and if anyone decide to leave, they are ex-communicated.