Former Wellington mayor denied tattoo as leaving gift from taxpayers
Author

Publish Date

Tue, 17 Jan 2017, 9:22am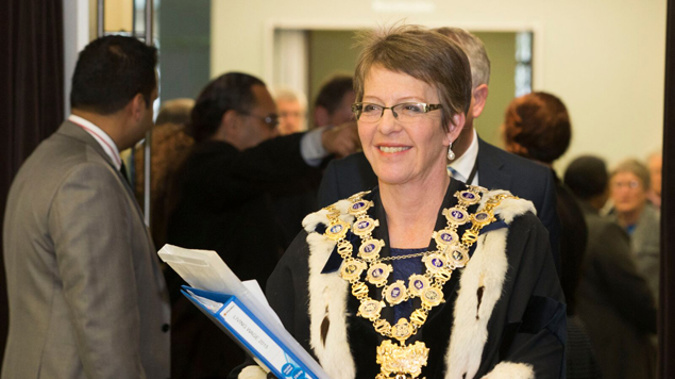 Former Wellington mayor denied tattoo as leaving gift from taxpayers
Author

Publish Date

Tue, 17 Jan 2017, 9:22am
UPDATED 12.53pm A former Wellington mayor has come under fire for requesting a lizard tattoo as a leaving gift. Celia Wade-Brown retired after six years in the job last year.

Wellington City Council spokesman Richard MacLean said at the time there was a light-hearted discussion where she said she had been wanting to get a tattoo for a while, so they discussed whether the council would pay for it.

He said there were various discussions about how that would play out and decided against using ratepayer money to pay for a tattoo. But he said staff did an informal whip-around and paid for the tattoo that way instead.
'I have no idea how much the tattoo cost, but imagine it was a three-figure sum' he said.
Ms Wade-Brown got the gecko tattooed just above her ankle in December.
Mr MacLean said there is a bit of a tradition that outgoing mayor's get some sort of ratepayer funded gift, so they also agreed to get a park bench installed in honour of Ms Wade-Brown.
'It's a bit more slightly prosaic, and people would say less racy gift' he said.
The tattoo request was leaked to the Taxpayers' Union via its tip-line.
The Union has praised the Wellington City Council for not using public money for the tattoo.
Executive director Jordan Williams said it is not appropriate in his view for a council to pay for body art.
He said they are perplexed that a former senior elected official thought it was appropriate that ratepayers' fund her body art.
He said it is perhaps the most unusual spending request they have ever come across.
Mr MacLean said Mr Williams' comments say more about the Taxpayers' Union that it does about anything else.
He said the amount of time and money spent responding to the union's truly pathetic requests is an enormous expense.
'One day we'll have to sit down and cost out how much their useless approach to official information requests is costing the ratepayer'.
Ms Wade-Brown is surprised people are talking about her gecko tattoo saying she hasn't given the issue a lot of thought, and is happy with a bench.