Flying trampoline hits house in Taranaki tornado
Author

Publish Date

Wed, 26 Oct 2016, 9:31AM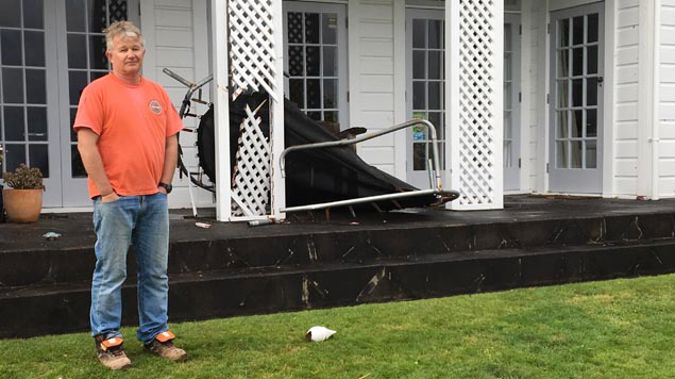 Flying trampoline hits house in Taranaki tornado
Author

Publish Date

Wed, 26 Oct 2016, 9:31AM
A Taranaki man has had to jump to action after a tornado smashed a trampoline into his house.
Shane Aberdein in New Plymouth said he heard what sounded like thunder before complete silence, and then a big smash.
"I thought it might have been a chair or something right against the house, we're just trying to work out which neighbour it came from."
Mr Aberdein said it was all over in just a few seconds.
The mini tornado hit New Plymouth between 1am and 2am.
Meteorologist Stephen Glassey said it had the potential to "lift roofs and damage houses and sort of lift up furniture".
A Fire Service spokeswoman said it was called to a house on Fulford St, after a roof was lifted off a property in a "small windstorm".
She said crew secured the roof.
Glassey said a line of thunderstorms moved through the area alongside the mini-tornado.
He said tornadoes in the area weren't unheard of.
"We do get them in that area, probably more frequently than what you think, but usually just quite localised and they will not be noticed as they are in the middle of nowhere."
However, Glassey said the risk of another one hitting the area today was diminishing.
Additional reporting from Corazon Miller of the NZ Herald