Firefighters could only watch helplessly as helicopter burnt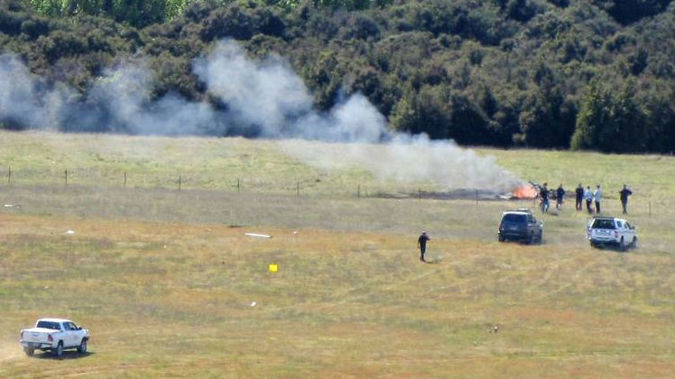 Firefighters could only watch helplessly as helicopter burnt
Firefighters first on the scene of yesterday's tragic helicopter triple fatality were horrified they could only helplessly watch the crashed machine burn after it became clear live ammunition was "cooking off" in the blaze.
Nick Wallis, 38, of the well-known Wanaka flying family and whose brother and fellow pilot Matt Wallis died nearby in a chopper crash just three months ago, was flying a leased Hughes 500 with two Department of Conservation (DoC) members of the elite senior rangers team, Paul Hondelink, 63, and 59-year-old Scott Theobald, both of Twizel.
They took off from Wanaka Airport in blue sky, light winds, perfect conditions, at 10.51am yesterday, northbound for the Landsborough Valley, in the headwaters of the Haast Valley, for the first day of tahr cull operations.
But just moments after take-off, the aircraft inexplicably crashed 1.5km away in a paddock near the banks of the Clutha River. There were no survivors.
A major probe is under way to find out what happened, although police say there are no suggestions of foul play at this stage.
A member of the public called emergency services shortly before 11am reporting smoke coming from the aircraft.
Wanaka Airport firefighters are understood to have rushed to the scene, closely followed by members of the Luggate and Wanaka volunteer fire brigades.
They came across a terrifying scene, with the helicopter ablaze, with a full tank of fuel, and live ammunition for the hunters' operations that day, "cooking off" in the fireball.
They had to keep a safe distance, knowing there were likely fatalities, and that they may have known the individuals personally.
Crews who attended yesterday's fatal crash have been offered counselling and support, the Herald has been told.
"We will continue to monitor their welfare over the next few weeks," said Fire and Emergency New Zealand Central-North Otago area manager Keith McIntosh.
"We provide a range of support for our people ranging from peer group support to independent counselling and psychological support if required."
This morning, specialist crash investigators could be seen at the site, along with several police cars, tents, and officers in a base several hundred metres from the wreckage.
What appears to be the tail section is more than 100m away.
A large cordon marked by white tape surrounds the remains of the leased helicopter (ZK-HOJ), that the Herald understands was brought in specially by Wallis' Alpine Helicopters company for the tahr cull contract.
The Transport Accident Investigation Commission (TAIC) has opened an inquiry and sent a four-strong investigation team, which arrived last night.
Southern Police District Commander Superintendent Paul Basham said TAIC is now the lead agency.
Chief Investigator of Accidents, Captain Tim Burfoot, says they are in the early stages of gathering information about the aircraft, the circumstances and the people on board.
TAIC opens an inquiry when it believes the circumstances of an accident or incident have - or are likely to have - significant implications for transport safety, or when the inquiry may allow it to make findings or recommendations to improve transport safety.
Nick Wallis, survived by a wife and twin 7-year-old daughters, was the director and general manager of Alpine Helicopters, and the youngest son of Sir Tim Wallis, who founded the popular Warbirds Over Wanaka airshow and who himself has survived a reported 15 air crashes.
Police said they were working with the victims' families to support them.
Basham today confirmed there was ammunition on board at the time of the crash.
Police are working to go through the disaster victim identification processes and hoped to be able to remove the bodies later today, Basham said.
Basham attended a briefing at the airport earlier today led by Johnathan Wallis, and was also attended by other police and DoC staff.
It gave him a real sense of the "huge" impact that tragedy is having on the families involved, DoC, the aviation and alpine communities, as well as the wider Wanaka community.
"Everybody involved in this event are really motivated and determined to get through this as quickly and as efficiently as we can," Basham said.
It was "very important" to find answers to the tragedy, and quickly, he said. Both police and TAIC were highly-motivated to conduct inquiries as quickly and as efficiently as possible, especially in retrieving the human remains, so they can be returned to the grieving families.
Members of the Wallis family were seen consoling each other at the airport hangar yesterday afternoon.
Alpine Group tourism general manager David Hiatt said the company has had a "strong working relationship" with DoC, starting with the Forest Service 55 years ago.
"Alpine wishes to extend its sincere condolences to the families and colleagues of the crew of the helicopter which was involved in the tragic accident near Wanaka yesterday," he said.
"The men were not simply DoC workers, they formed part of a team of elite senior rangers within the department. Importantly, they were personal friends of Alpine staff and ownership who are also grieving at this time.
"The matter remains in the hands of the New Zealand Police and Transport Accident Investigation Commission."
A former DoC worker who has flown with Nick Wallis on many occasions was shocked by the tragedy.
"It will be really interesting to find out what has happened here. I can't believe it would a pilot error as Nick was super experienced and a really talented pilot," he said.
He said Wallis ran a well-organised operation and they were using a brand new machine that was specifically designed to be super safe.
Yesterday's crash comes less than three months after his brother and fellow pilot Matthew Timothy Wallis was killed in a helicopter crash.
The 39-year-old's body was discovered in the chopper wreckage at the bottom of Lake Wanaka two days after the crash.
Warbirds Over Wanaka Community Trust chairman John Gilks paid tribute to Nick Wallis yesterday, saying the tragedy would have a huge impact on the Wanaka community.
"It's in the realm of being almost unbelievable.
"The community will be devastated."
Gilks, who knew Wallis well, said the pilot was a "lovely guy, a wonderful guy".
"He was a man's man and yet a real gentleman."
"The person I feel deeply sorry for is Nick's wife ... and their children."
Former New Zealand Deerstalkers Association president Bill O'Leary expressed deep regret at the "tragic loss of life".
"All our members, indeed hunters everywhere, will join in expressing their deepest sympathy to the families of those lost."