Explained: How today's big quake struck in a seismically 'quiet' area
Author

Publish Date

Wed, 20 Sep 2023, 1:42PM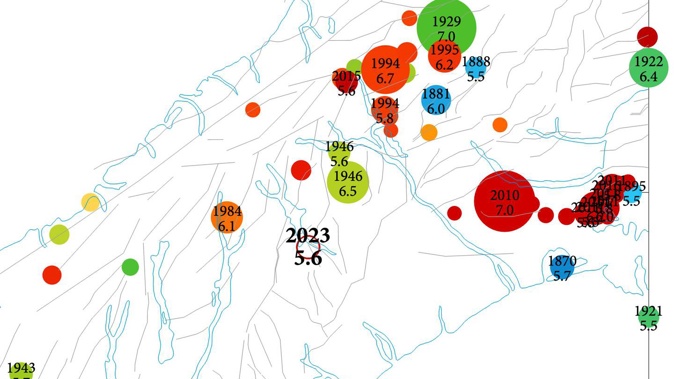 Explained: How today's big quake struck in a seismically 'quiet' area
Author

Publish Date

Wed, 20 Sep 2023, 1:42PM
What was one of the largest earthquakes of 2023 struck in a seismically quiet area, near faults that've produced only a handful of big shakes in the past 18,000 years.
The 9.14am jolt – earlier estimated at magnitude 6.4 and 6.2, but since revised to 6.0 - was centred about 45km north of Geraldine, at a relatively shallow depth of 11km.
Felt by more than 14,000 people mostly in the South Island, the earthquake was followed by 31 aftershocks in the two and a half hours following – the largest of which measured 3.6 and hit at 9.25am.
More were expected, GNS Science seismic duty officer Katie Jacobs told the Herald.
 "When an earthquake occurs there is always a small possibility that a larger earthquake will follow, however, the most likely scenario is that there will be a number of smaller aftershocks which will taper off with time," she said.
"Because this is a region of lower historical seismicity it is more difficult to forecast specifically."
GNS Science geologist David Barrell said the quake was centred in the Rangitata Gorge area where two identified active faults meet – the Ben McLeod Fault and the Lake Heron Fault.
These two faults had "relatively low" levels of activity, he said.
 "Given the magnitude of 6.0 - relatively small for a major fault - it was likely on a subsurface fault between those two faults."
Image / GeoNet
The epicentre was located about 70km southeast of the Alpine Fault – the sprawling system that marked the plate boundary in this part of the South Island.
While there were no known historical quakes in this area that measured above magnitude 5.0, nearby large faults were understood to have ruptured several times within the past 18,000 years.
Victoria University geophysicist Professor John Townend said it appeared the quake had come about through reverse-type faulting – where a block above a fault moved up relative to the block below it.
Townend said this was indicative of compression between the Australian and Pacific tectonic plates that collide beneath New Zealand to create our famously shaky environment.
"In this case, the Pacific plate is moving southwest toward the Australian plate, and that creates compression and compressive stresses, which are relieved in reverse-type earthquakes like this one."
The Alpine Fault runs several hundred kilometres from near Milford Sound all the way to Nelson Lakes National Park. Photo / North and South
He said the quake occurred in what was a complex plate boundary zone, of which the high-risk Alpine Fault was just one component.
"There are lots of faults throughout the Southern Alps which accommodate various amounts of this reverse-type and strike-slip lateral motion – and there'll be more work to refine its location and depth over the next little while.
"This event is probably part of that broader deformation that's distributed through the Southern Alps on faults that are less well-known than the Alpine Fault but accommodate some of the motion."
It also wasn't yet clear just why the quake had been felt so widely.
"I suspect what we'll learn is that it's partly due to the presence of the Hikurangi Plateau, which is a thick and quite transmissive crustal block, he said."
Jacobs said the event had been a good test of GNS Science's newly released Shaking Layers tool, which provided shaking intensity maps minutes after an earthquake stronger than 3.5.
It worked by combining ground motion recordings across GeoNet's seismic networks with model predictions to estimate shaking at any given point in the country.
Not only was today's event the first, strong local quake to be measured by the tool – it was also equally the biggest quake of 2023, alongside another 6.0 quake that hit near Paraparaumu that struck amid the Cyclone Gabrielle disaster on February 15.
Other notable events this year included a 5.6 event, north of French Pass, on August 11, and a 5.9 event near Pōrangahau on April 26.
Earlier this year, Canterbury was rocked by earthquakes measuring between 4.4 and 4.7. The quakes, in March and April, were the largest in the region in 2023 before today's event.
The shake also follows some notable spates this year recorded around Kawerau, Te Aroha and Pōrangahau - and there have been nine in total measuring above 5.0.
But that didn't mean there'd been more activity than usual this year.
The 10,957 quakes recorded over 2023′s first six months was relatively close to average, given our seismometers normally register around 20,000 in a year.
This GeoNet map showing the epicentre and intensity contours from the earthquake this morning. Image / GeoNet
Today's shake also came as a large team of scientists recently published data mapping nearly 900 faults capable of generating moderate to large quakes.
This wealth of new information helped inform the recently-updated National Seismic Hazard Model which, compared with previous estimates of seismic hazard, showed an increased risk of ground-shaking from future quakes in places such as Blenheim, Wellington, Napier and Gisborne.
With a multi-million dollar, GNS-led programme called Rapid Characterisation of Earthquakes and Tsunami, or RCET, experts have been drawing on the latest science to fully understand a given quake's complex, three-dimensional nature.
It's already helped deliver New Zealand one of the best earthquake response systems in the world – and enabled scientists to quickly gauge an event's ability to cause widespread shaking, trigger tsunamis and landslides, as well as damage to infrastructure like roads and buildings.
In today's case, there weren't yet any reports of injuries or damage - but it was nonetheless a "serious reminder" that we live in a quake-prone country, Nema emergency management director John Price said.
"To stay safe when the earth moves, you need to drop cover and hold. Drop down on your hands and knees. Cover your head and neck. Hold on to your shelter."
While the event didn't create a tsunami threat, Price said Kiwis also needed to remember the "Long or Strong Get Gone" message.
"That means if you're near the coast and you experience a long or strong earthquake, don't wait for an official warning. Evacuate immediately - as far inland as possible, or to higher ground."
Price encouraged people to join the half million New Zealanders taking part in next month's ShakeOut earthquake and tsunami drill.
"This is also a reminder to have a 'prep talk' with your household, and for workplaces, schools and marae to make sure they're earthquake-ready."
Shaky isles
20,000: The number of earthquakes recorded each year in New Zealand by GNS Science. About 100 to 150 of these quakes are large enough to be felt; scientists only know about the others because they were recorded by seismographs.
1000km: Faults can be as short as a few metres, and as long as 1000km. The fault rupture from an earthquake isn't always a straight or continuous line.
125,000 years: If a fault shows evidence of having moved at least once in the past 125,000 years, geologists regard the fault as a potential source of earthquakes. If it has moved at least once in the past 5000 years, then it is considered a potential source of damaging earthquakes to any settlement within a radius of 50km.
Take your Radio, Podcasts and Music with you