'Drown him' case: Teen culprits' names given to police
Author

Section

Publish Date

Tuesday, 14 November 2017, 8:55a.m.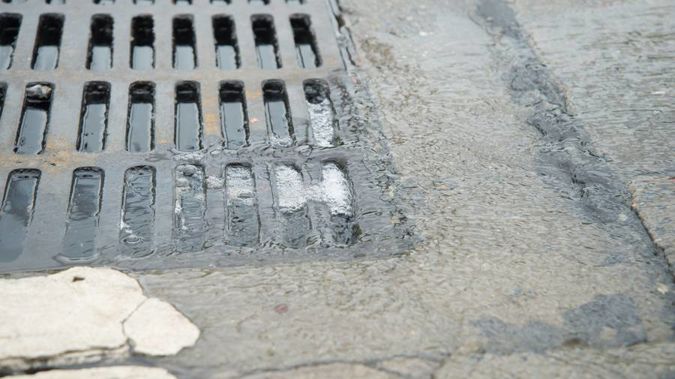 Police have been given names of suspects who chanted "drown him" during a brutal assault on a teenager.
The 15-year-old was attacked by a group in the Christchurch suburb of Rolleston after the fireworks display on November 4. They dragged him to a water race and held his head under water. Some in the group chanted "drown him".
READ MORE: 'Drown him' chants as youths hold teen's head underwater in Canterbury region
Many people have posted about the incident online, including friends of the victim who believe they know who the attackers were, his mother said.
Names had been given to the police.
A friend of the family posted a message on their behalf, which received more than 600 reactions and a number of comments offering support and condemning the attack.
The 15-year-old's mother said the support has been amazing. It took more than an hour-and-a-half to finish shopping at the supermarket because people kept stopping her.
"It was amazing to see how many people came up to us," she said.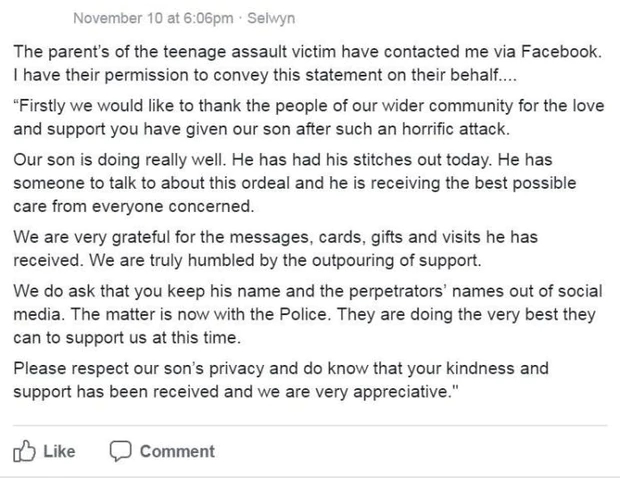 But police are saying little publicly about finding the offenders.
Detective Senior Sergeant Mike Ford told the Selwyn Times yesterday there was no update. Inquiries are ongoing, he said.
The four alleged offenders are all teenagers, the Selwyn Times has been told.
The attack appears to have been robbery-motivated.
Four youths approached the teenager on Tennyson St, Rolleston, at about 10.30pm and demanded his cap.
When he refused to hand it over, he was attacked. The group repeatedly punched him and kicked him on the ground.
They dragged him to a nearby water drain and held his head under the water.
He eventually broke free and attempted to run home.
His mother said he collapsed near their house and caught the attention of the neighbour's who brought him home.
"I didn't recognise him, I thought 'who the hell are you'," she said.
"He couldn't talk and his mouth was full of blood."
They called 111 and he was taken to Christchurch Hospital.
The teenager was discharged from hospital the following day.
• Anyone with information can call the police on 363 7400 or anonymously through Crimestoppers on 0800 555 111.
- Star.kiwi