'My first and best adventure buddy': Dr Tom Mulholland farewelled by hundreds after sudden death
Author

Publish Date

Tue, 17 Oct 2023, 3:07PM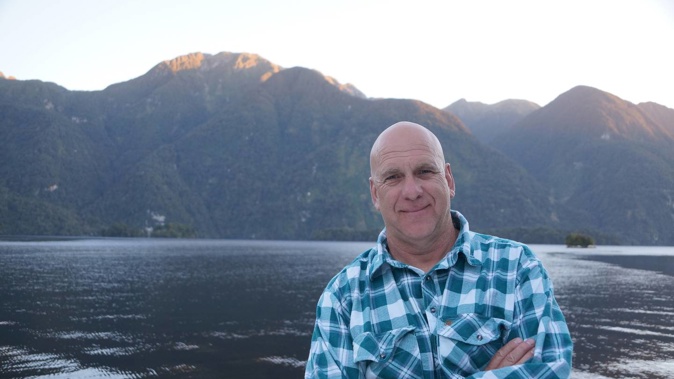 'My first and best adventure buddy': Dr Tom Mulholland farewelled by hundreds after sudden death
Author

Publish Date

Tue, 17 Oct 2023, 3:07PM
Warning: This article may be distressing to some readers. If you need help, contact Lifeline on 0800 543 354 or text 4357 (HELP).
Dr Tom Mulholland, a celebrity physician and beloved Kiwi campaigner for physical and mental health, was remembered for the extraordinary and adventurous life he led as he was farewelled in a heart-wrenching funeral at Porirua today.
Hundreds, all wearing blue as a tribute to Mulholland's love for the ocean, gathered at Te Rauparaha Arena for the service while just over 200 hundred more tuned into the livestream.
Desiree (Dee) Foxley, Mulholland's fiance, delivered the last tribute and shared details about how they met, the Fiordland wedding they were planning and the love of adventure that they shared.
 "I first saw Tom when I was walking down the aisle as maid of honour at my sister's wedding, and I thought, 'Ooh who's that? He's a bit of alright'. I didn't meet Tom until the next day, I was meant to pick my nieces up from a cafe and ended up going to the wrong cafe, which actually turned out to be the right one as this is where I met Tom.
"We talked and talked and in true Dr Tom fashion he gave me his books to read. I do not read books but I picked up his yellow one and I had finished it by the time I returned home. He changed my way of thinking and my life. He made me fall in love with life again."
Dr Tom Mulholland and his fiance Desiree (Dee) Foxley. Photo/Supplied
Foxley said that when they first stared dating her pictures from her walks up Te Mata Peak, from surfing in Ohope and of the catfish she caught on Lake Taupō were outdone by Mulholland's photos of the kingfish he "slayed" at Three Kings, the mountains he snowboarded on in Greenland or the world renowned breaks he surfed in Indonesia.
"There was nothing I could impress him with but I was intrigued by him. In time when I really got to know him, I learnt that he just wanted to share everything with me and it wasn't flex. He was just trying to take me on all the adventures too," said Foxley.
Mulholland's daughter Livi (Mulholland) Kay said "my dad was my first and best adventure buddy" as she fought through tears.
When she was just 2 they went snorkelling in Fiji, at 18 years old they went out to the arctic to see the polar bears and on her 21st they went to Antarctica.
Dr Tom Mulholland with his daughter Livi at her wedding Photo/Supplied
Kay said her dad first went through a really hard time after losing his company, Dr. Global, in the late 1990s.
"He seriously contemplated if life was worth continuing. According to his story which became his first ever best-selling book he had had a plan to end things then but he had looked to a tiny [son] Tommy and I and decided that he couldn't do it and to carry on for us," said Kay.
"As the years went on we learnt to confide in each other when things got tough which is what makes today exponentially difficult for me."
Tributes from Mulholland's son Tommy, his daughter Sammie Forrest, two of his cousin's and former business partner William Peters were also shared while his sister Melissa shared his eulogy.
Dr Tom Mulholland with his three children, Sammie Forrest (second from left), Livi (Mulholland) Kay (second from right) and Tommy Mulholland. Photo/Supplied
To honour the family's Scottish heritage, bagpipes were played as Mulholland's casket was carried in from his retro Chevy ambulance that he used to travel around New Zealand to openly share his own mental health struggles.
Known affectionately as Dr Tom, the medical practitioner, adventurer and devoted father had helped hundreds of thousands of people globally over the past three decades - hosting his own TV and radio shows, writing two best-selling books.
His death on October 8 in Wellington has sparked an outpouring of tributes and sadness from those who knew him. The case has been referred to the coroner and is being investigated as a suspected suicide. He was 61.
SUICIDE AND DEPRESSION
Where to get help:
Lifeline: Call 0800 543 354 or text 4357 (HELP) (available 24/7)
Suicide Crisis Helpline: Call 0508 828 865 (0508 TAUTOKO) (available 24/7)
Youth services: (06) 3555 906• Youthline: Call 0800 376 633 or text 234
What's Up: Call 0800 942 8787 (11am to 11pm) or webchat (11am to 10.30pm)
Depression helpline: Call 0800 111 757 or text 4202 (available 24/7)
Helpline: Need to talk? Call or text 1737
If it is an emergency and you feel like you or someone else is at risk, call 111.
Take your Radio, Podcasts and Music with you