Divers' amazing discovery after wakeboarder loses arm in Bay of Islands
Author

Publish Date

Wed, 28 Feb 2018, 3:05pm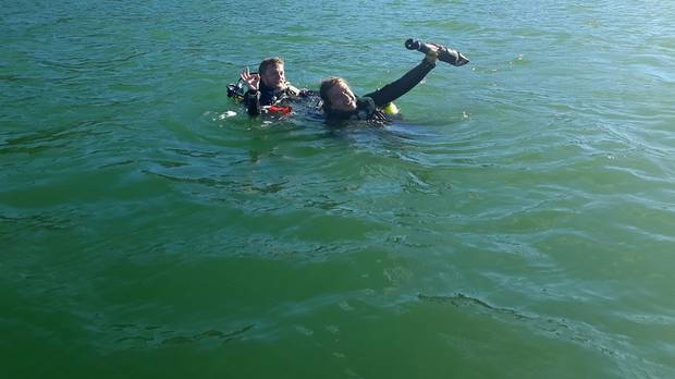 Divers' amazing discovery after wakeboarder loses arm in Bay of Islands
Author

Publish Date

Wed, 28 Feb 2018, 3:05pm
Paihia man Ty-Ray White is giving a "big hand" to the divers who helped find the prosthetic arm he lost while wakeboarding.
White was wakeboarding off Te Ti Beach on Saturday afternoon when he fell, and during his fall, the prosthetic on his lower left arm "slipped off".
The arm, which is made of carbon fibre, did not float and he thought that could be the last he sees of it.
He said it was an "I told you so" moment for his wife Karen, who only minutes earlier had reminded him he was supposed to have a form of floatation on his arm in case it fell off.
Mr White admits his "she'll be right" attitude didn't pay off.
The Whites thought the arm was long gone. Mr White is a former professional diver but thought the poor visibility in the water and the current would make the arm impossible to find.
But Mrs White put a post on Facebook asking for anyone who might come across the arm washed up on the beach "by a stroke of coincidence" to let her know.
The post was spotted by Craig Johnston, who owns Paihia Dive. He offered to pop out and have a look, free of charge.
Johnston said the visibility was about half a metres, and he put two pairs of divers down in different spots - one near the ski lane marker buoys and one where Mr White thought it might be.
The plan was to search for half an hour and then resurface and re-assess.
"Right at the end of the search pattern, they were just about to give up and they found it," Johnston said.
The hand part of the arm was dug into the sand, but the neoprene sock on the other end meant it was floating upright.
It was found by one of his dive instructors, Adam Scanlon in about three and half metres of water.
"He went through and whacked it, it gave him a bit of a fright, before he realised what it was."
He said Scanlon was "absolutely chuffed" to find it. He added it was the first arm the company has ever found.
Mr White was born with only one hand but says it has never held him back.
"My mother's saying was 'there's no such thing as can't'. I like to think I can do, or at least try anything and the addition of a prosthesis allows me to do things a bit better, more comfortable and safer."
And next time he will put a flotation device on the arm while in action on the water . . . just in case.