Demolition of Wellington's Reading Cinema carpark underway
Author

Publish Date

Wed, 4 Jan 2017, 6:14AM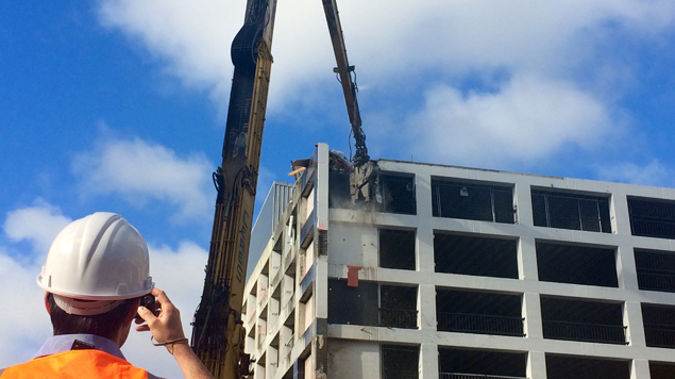 Demolition of Wellington's Reading Cinema carpark underway
Author

Publish Date

Wed, 4 Jan 2017, 6:14AM
UPDATED 9.16am The demolition of Wellington's earthquake-damaged Reading Cinema carpark building has begun.
The crane being used to bring the building down took its first bite out of the structure just after 8am.
Work is starting on the stairwell on the corner of the building closest to the Tory Street - Wakefield Street intersection.
Once the stairwell is removed, the crane will be able to move into the building and start tearing it down from the inside out.
Wellington City Council earthquake recovery team member Moana Mackey said it's a relief to see work finally get underway.
She said now the crane is in action, the focus is to get the carpark down safely and quickly.
Reading International, the building owner, said demolition is due to continue seven days a week, until the end of March.
The crane being used to carry out the work is the same that brought the quake-damaged office block at 61 Molesworth Street down.
That building has now been completely demolished, however the rubble still needs to be cleared.
Ms Mackey said nine cars remain inside the carpark building, as it was not safe to recover them.
She said Tory Street is now a demolition site, so all of Tory Street between Courtenay Place and Wakefield Street will be closed, as well as the footpath along Courtenay Central.