Upset as select media barred from Te Tii Marae
Author

Publish Date

Sat, 4 Feb 2017, 10:56AM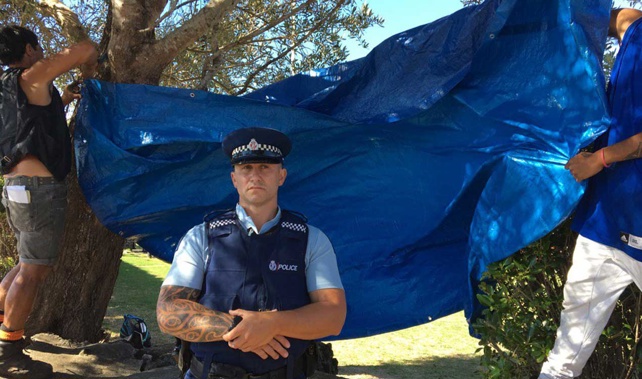 Upset as select media barred from Te Tii Marae
Author

Publish Date

Sat, 4 Feb 2017, 10:56AM
UPDATED 2.28PM Broadcaster Willie Jackson has described the banning of media with cameras from Te Tii Marae as "absolutely bloody nonsensical" and has urged kaumatua Kingi Taurua to "fix it up".
Newstalk ZB and other media organisations have been told they're allowed on the grounds of Te Tii at Waitangi as members of the public as long as they don't sell photos and videos.
Several people approached Newstalk ZB's reporters telling them to stop taking photos.
However, Te Tii Marae chair Ngati Kawa and his media advisor said photos can be taken so long as they're not sold. 
Earlier, tarpaulins were nailed between trees to block media from taking photo and video from the road outside.
Extra police have also been brought in, and followed requests from Te Tii management to move media away from the marae boundaries.
Willie Jackson, who is expected to announce his candidacy for Labour tomorrow, is also at Waitangi.
Of the media ban, he said: "We've got to learn to do things a lot better because this is such an important day. I've been coming here for years and you cant treat media like that."
"Gee I'd like to see these guys listen because they will fast lose this," Jackson said.
"I dont know what is happening at the marae here. It's just sad to see."
"Let's hope things can be tidied up a bit."
Local leaders such as Kelvin Davis, Shane Jones and Pita Paraone had all voiced their concern.
Governor-General Dame Patsy Reddy was delayed from going onto the marae but has since been shown into the whare for a private welcome with her husband, Sir David Gascoigne.
Chief Justice Sian Elias and other judges including Maori Land Court judge Craig Coxhead and High Court judge Joe Williams were also invited to go on.
Earlier, a woman yelling incomprehensibly about "respect" and armed with placards and flags made it onto the marae grounds. She was escorted from the premises.
The woman was also at the marae during Prime Minister Bill English's visit to Waitangi yesterday.
Prime Minister Bill English is not attending Te Tii on Waitangi Day itself. Opposition leader Andrew Little will go on with Labour tomorrow.
They are both attending an urban marae event at Hoani Waititi on Monday.
Dame Patsy will be heading to HMNZS Wellington - which is alongside Opua Wharf - for a reception this evening.
She'll also be at Waitangi tomorrow.
Take your Radio, Podcasts and Music with you