Dangers of agreeing to 'unfair' terms and conditions without reading
Author

Publish Date

Tue, 6 Sep 2016, 5:31PM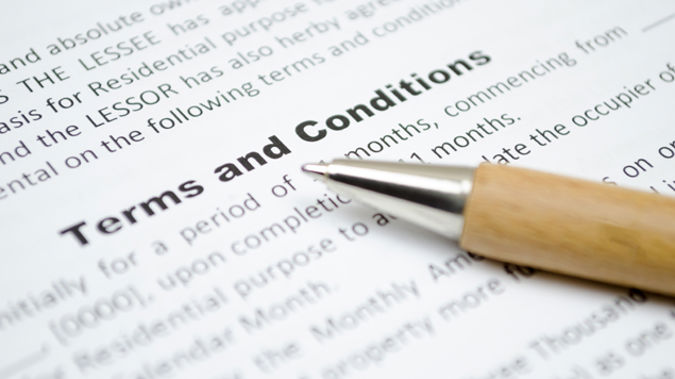 Dangers of agreeing to 'unfair' terms and conditions without reading
Author

Publish Date

Tue, 6 Sep 2016, 5:31PM
Consumers who have ever agreed to terms and conditions without reading or understanding them may be in for a double sting.
A new study has found widespread unfair terms in contracts for a broad range of everyday services in New Zealand, despite a law change last year aiming to fix the problem.
The law change gave companies 15 months to make their contracts fair, and bring the law in line with Australia's.
Currently in New Zealand, consumers who agreed to a contract and recognised it as unfair, could not make a complaint.
Furthermore, unless the Commerce Commission challenged the company, and a court found them unfair, the courts and tribunals had to enforce unfair terms against the consumers.
Study lead Associate Professor Alexandra Sims is the Head of Commercial Law at the University of Auckland Business School.
Ms Sims said the Unfair Contract Terms law was "clearly not working" and while the Commerce Commission was doing the best they could, the law itself needed to change.
"My worry is that we have the Government saying 'we've got this law against unfair contracts terms' but they're everywhere."
Researchers of the study found before the law change all of the contracts contained unfair contract terms.
After the law change just one third, 33 per cent of the contracts were changed to comply with the new law.
All the contracts still contained at least one unfair term.
"So what is the point of having a law if you can't do anything about it," Ms Sims said.
A common example of an unfair term was forcing consumers to pay termination fees when they wanted to cancel a contract after it was automatically renewed, or after the business increased its price or made other unfair changes to its terms.
Ms Sims said the worst term she came across was out of the energy retailer review.
"One of the companies made customers who purchased a property with an existing electricity installation liable to pay outstanding charges from the previous occupant in order to continue their connection," she said.
"That's simply outrageous."
The problem, Ms Sims said, was that the Commerce Commission couldn't go to every single company because "it would take forever".
"There is going to be contracts that are enforced against people with unfair contract terms in them."
Ms Sims said the New Zealand law needed to be brought in line with Australian law.
Across the ditch, both consumers and regulators could challenge unfair contract terms, and consumers could do so in the Australia equivalent of the Disputes Tribunals.
Fees and charges could also be complained about.
"The law must be changed to allow consumers to challenge unfair contract terms in both the Disputes Tribunal and the courts, and to challenge fees and charges – as is the case in Australia," Ms Sims said.