Dairy Flat multi-vehicle smash: 'It's a dangerous road'
Author

Section

Publish Date

Thursday, 14 June 2018, 12:46p.m.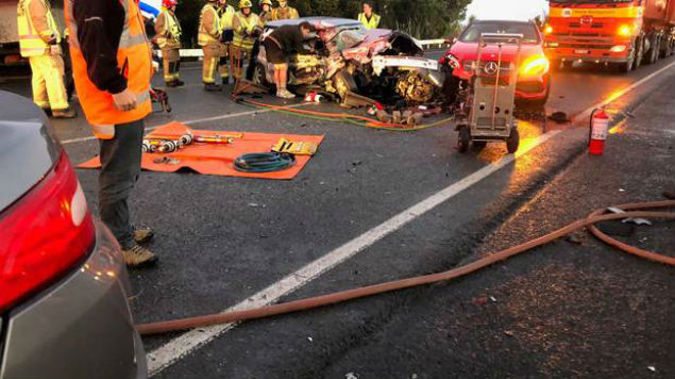 An Albany man who responded to the aftermath of a horrific multi-vehicle smash at the Dairy Flat and Coatesville-Riverhead intersection says the intersection needs urgent work.
This morning a truck and a small car collided, sideswiping about four or five other cars in the crash, with the truck plunging through a barrier as a result.
Giles Civil director David Hick travels through the area two or three times a day and saw the aftermath of the crash about 7am.
Quite a few people could not drive through and got out of their cars to help, Hick said.
The woman in the mini was in a bad condition but she was breathing and she was moving, he said.
"It took them at least an hour to get her out of the car."
Emergency services worked for more than an hour to free the woman from the car. Photo / Supplied
A Giles Civil employee had been driving a company car that was sideswiped and written off in the collision.
"He's ok - he's shaken," Hick said.
"Everyone is shaken of course."
Hick said urgent work needed to be undertaken on the road.
"For 20 years we have been trying to get this road improve," he said.
"We keep on having investigations and everything but nothing is happening.
"It's a dangerous road."
The speed in the area was too high and the intersection was controlled by a substandard Give Way sign, he said.
"It's just down the road from where Johnny Danger died in that accident.
"There is a pretty serious accident once a month on this road."
Someone should be doing something about it now, not just talking about, Hick said.
There had been heavy traffic on the Dairy Flat Highway this morning because the Northern Motorway was closed, he said.
There was a pile-up, reportedly involving seven cars, on the Northern Motorway between Silverdale and Oteha Valley Rd about 6am.
Nobody was injured in this crash according to police.
A person was seriously injured in a two-car crash about 6.30am on Te Atatu Rd, between Old Te Atatu Rd and Gloria Ave.
Fire and Emergency NZ had to free the person who was trapped.