Cyclone Gita: Your region-by-region weather forecast for Wednesday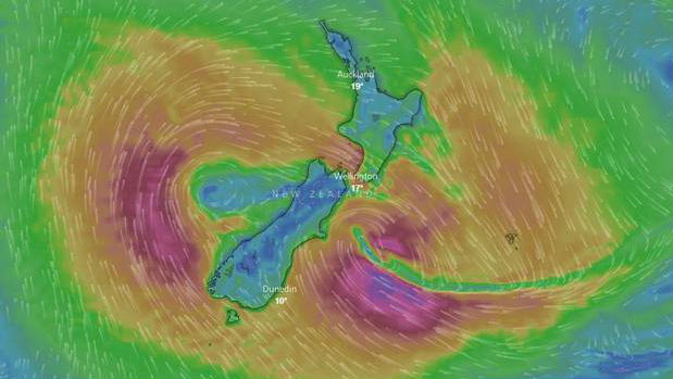 Cyclone Gita: Your region-by-region weather forecast for Wednesday
The country has been ravaged by former Cyclone Gita, which brought 15m waves, more than 300mm of rain, and wind gusts above 130km/h - and it is not over yet.
The system has split in two - caught up by the Southern Alps - and the main low is now hovering near Banks Peninsula and another is to the west.
"New Zealand gets in the way," Metservice meteorologist Peter Little said this morning.
The mountains held up the lower parts of the system as it moved across the country, while the upper parts moved past.
Most of the severe weather now and through the day would be affecting South Canterbury and lower parts of the South Island.
"Rain warnings are still in place for those areas. There are strong winds in Banks Peninsula too, and also along ridge tops in the lower North Island.
"There will still be some rain in the Buller region, and parts of the North Island, but not enough for a warning."
Christchurch, Buller District, Grey District, Selwyn, Westland, Tasman and Taranaki declared a state of emergency yesterday as the powerful storm arrived through the day, causing flooding, destroying buildings and closing roads.
More than 100 tourists were trapped overnight in Whataroa, south of Greymouth, and thousands of people lost power around the country.
The heaviest rain fell in Canterbury, where over 300mm was recorded at a station in the Kaikoura ranges, and 200mm at Carrington Hut in Arthurs Pass National Park.
Many other areas recorded more than 150mm, and even coastal parts had a lot of rain, including 64mm in Christchurch, 94mm in Ashburton, and more than 100mm in Timaru.
Taranaki experienced "exceptionally strong" winds. A gust of 130km/h was recorded at 7pm.
"I have never seen anything that strong there before," Little said.
Whanganui recorded winds of 109km/h, Kelburn in Wellington 118km/h and the top of Rimutaka Hill 131km/h.
On the West Coast of the South Island savage easterly winds ripped roofs off houses, reaching 118km/h in Westport and 124km/h at Cape Foulwind.
The largest waves were recorded by the Port of Taranaki, with a 8.3m northwest swell and a maximum wave height of 15m.
"With those sorts of impacts I would be surprised if there is no damage this morning," Little said.
"It is an unusual swell direction too. It is very uncommon to get an 8m northwest swell, and even a 4m swell from there. It is a very rare event."
The system would be moving on by this evening and should bring relatively settled weather for most of the country tomorrow.
"The good news is a southerly airflow will come through over Thursday and Friday, bringing an end to some of the oppressive humidity.
"It will be a welcome relief for those suffering in the hot, humid weather."
Today's forecast
Northland:
No warnings in place.
Whangarei:
Cloudy periods, but long fine breaks in the afternoon. Westerlies. High 26C Low 16C.
Auckland:
No warnings in place.
Cloudy periods with isolated morning showers. Westerlies. High 24C Low 18C
Bay of Plenty:
A strong wind watch is in place to 2am Wednesday.
Tauranga: 
Morning cloud, clearing to a fine day. Westerlies. High 26C Low 17C
Gisborne and Hawke's Bay:
A strong wind watch is in place to 2am Wednesday.
Gisborne: Cloudy periods. Northwesterlies. High 28C Low 15C
Taranaki:
Strong wind warning in place to 1am Wednesday.
Exposed parts of North Taranaki, and damaging gusts of up to 150 km/h in exposed parts of South Taranaki and Taihape.
High winds that affected roads and essential services compelled Taranaki leaders to declare a state of emergency over the region.
Nearly 23,000 Taranaki properties were without power at 6.20pm.
Some may be without power overnight and into tomorrow.
The pipeline from the New Plymouth water treatment station to the Mangorei Reservoir has been ruptured by a falling tree.
Residents in eastern parts of New Plymouth District – New Plymouth, Bell Block, Waitara, Tikorangi, Onaero and Urenui - were being urged to minimise water use.
Fallen trees and road crashes were disrupting traffic on a number of highways and local roads.
Gusts of up to 140km/h in South Taranaki and 120km/h in North Taranaki were expected to continue until 1am, when winds should gradually ease.
Horowhenua/Kapiti/Wairarapa:
Heavy rain warning in place to 6am Wednesday.
Manawatu/Whanganui:
Whanganui: Strong wind warning in place to 6am Wednesday.
Winds have been logged at nearly 70 km/h at Whanganui Airport and there may be winds gusting up to 120 km/h into the evening and early hours of Wednesday.
Winds are picking up in the Manawatu region with hundreds of homes now without power.
Properties in Marton, Bulls, Halcombe, Waituna West and Glen Oroua have no power due to strong winds.
Horizons Regional and Manawatu District Council have no issues to report and unless things change, will provide their next update tomorrow morning. They have staff monitoring the situation, with barrier crews on standby at Foxton Beach for high tide at 2am.
There are also reports of multiple pine trees down in Rowe Rd near the small township of Rongotea.
Wellington:
Strong wind warning in place to 6am Wednesday.
Showers north of the city. Showers, chance heavy, developing in the city from evening with a strong southerly change. High 21C Low 12C.
Nelson/Marlborough Sounds:
No severe warnings in place.
Nelson: 
Showers, some heavy from afternoon. Northwest breezes. High 22C Low 13C
Civil defence centres are filling up in the Nelson Tasman district as residents flee their flooded homes.
Around 150 in the Takaka area have self-evacuated. Takaka residents are asked to be aware, and consider self-evacuating if they feel their safety could be at risk.
A Civil Defence Centre has been opened at Takaka Recreation Centre.
About four thousand people are without power in Tasman district, as lines are taken down across the region.Nelson Tasman Civil Defence says areas from Kina beach to Takaka - including Kaiteriteri - have had their electricity cut.
Buller region/ West Coast:
The risk of coastal inundation is greatest for areas from Buller and North Canterbury northwards.
Greymouth: 
Showers, possibly heavy, easing from afternoon and clearing evening. Gusty easterlies. High 18C Low 10C
Canterbury:
Strong wind warning in place until 11pm Tuesday for high country.
Warning in place to 3pm Wednesday from Banks Peninsula northward.
Christchurch:
 Rain, possibly heavy, easing from afternoon. Strong southwesterly, gradually easing from afternoon. High 15C Low 9C.
Civil Defence is keeping a close eye on Canterbury rivers as high tide approaches.
Canterbury Region Civil Defence duty officer James Thompson says they are closely watching the Heathcote, Avon, and Selwyn Rivers.
Selwyn Civil Defence local controller Murray Washington says the Selwyn River could potentially flood overnight
Otago:
Heavy rain warning in place for North Otago to 11am Wednesday.
Dunedin: 
Rain, possibly heavy, easing to a few showers in the evening as south easterly changes southwest. High 13C Low 10C
Fiordland:
Strong wind watch to 6am Wednesday.
Take your Radio, Podcasts and Music with you