'She was gone' - Napier flood survivor forced to let go of friend in raging floodwaters
Author

Publish Date

Wed, 22 Feb 2023, 12:49PM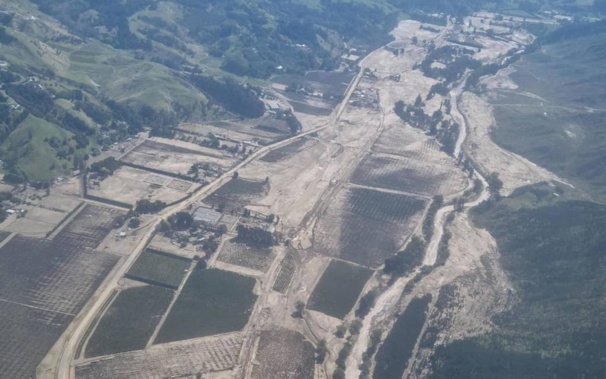 'She was gone' - Napier flood survivor forced to let go of friend in raging floodwaters
Author

Publish Date

Wed, 22 Feb 2023, 12:49PM
A Napier flood survivor has described the harrowing moment of how his friend was swept away in raging floodwaters as the house they were staying in crumbled and he was forced to let her go.
Gareth Jones said his friend Susane Caccioppoli visited him on Monday evening last week for a catch-up at the home he was house sitting in Esk Valley as Cyclone Gabrielle bore down on the region.
The pair were unable to sleep as the weather worsened and so they stayed up chatting, said Jones.
Jones told the Herald that by 2.30am the garage below the home started to flood and from then things turned bad quickly. As the water rose into the house, Jones and Caccioppoli took refuge on top of the kitchen benches.
"[We were] pretty hypothermic at this point because we'd been under all that cold water and the dogs were frantically swimming around in the living room. We were on top of the bench and the water was up to chest level on us," said Jones.
With nowhere to go but up, Jones took his phone and used it to hack into the loft space in the roof. He managed to lift Caccioppoli and the dogs in, and said the cats made their own way in. It took him around 30 minutes to lift himself in, he said.
Susane Caccioppoli died in the Napier flooding from Cyclone Gabrielle. Photo / Supplied
In the roof, Jones and Caccioppoli cocooned themselves in insulation to keep warm and briefly thought that they might make it out okay.
"We stopped shivering and started getting a bit of warmth and then I just felt myself start to shiver again... the water was coming up into the loft space."
As the water continued to rise, Jones and Caccioppoli decided to make video messages to say goodbye to their families.
"She left messages on her phone to say how proud she was of her kids and her grand-kids, because we just knew [that] when we hit the water, there wasn't much hope for us," Jones said while crying.
As they were perched on the rafters in the ceiling trying to keep out of the water for as long as possible things went from bad to worse when a blue shipping container smashed through the living room and kitchen.
In a final, pleading call to emergency services Jones asked if they would be able to get help within the next 10 minutes. The call-taker said no.
"I said well I am going to hang up now and make my final goodbyes to my family and she [the call-taker] was really upset and apologetic on the phone, it wasn't her fault," said Jones.
The house began to crack and snap and before they knew it, Jones and Caccioppoli were in the water.
"I had Sue clutched to my right arm as tightly as I could," said Jones.
As they tried to navigate themselves to objects that they could hold on to, debris smashed into Jones and he was forced to let go of Caccioppoli as he was pulled under the water.
"There was a branch pulling me under the water... I was fighting to get my leg out and when I did Sue was gone and I couldn't find her anywhere," he said.
Police confirmed on Monday that Caccioppoli's body was found on the shore at Bay View beach on Tuesday last week.
Jones made it out of the water and on to a nearby bank where he said he had to cover himself in mud and his own urine to keep warm.
"I stood on this bank yelling and screaming and there was no sign of any life or anybody," he said.
When the water levels began to drop, Jones managed to crawl to a piece of machinery. He was then found by another man who took him to a caravan for shelter before being airlifted out at around 11am on Tuesday.
Jones suffered a severe cut to his foot when he was trapped in the floodwaters, it then became infected and he is now awaiting surgery in Lower Hutt Hospital.
On losing his friend, Jones said he will remember Caccioppoli, who was a cancer survivor and widow, for the brave and beautiful woman that she was.
"She absolutely wasn't scared, she was a tiny woman but [was] very brave. Obviously brave because she's had to go through so much," said Jones.
"She lost the love of her life and she'll be back with him now... and I'm sure they'll be smiling down on the family saying 'don't worry we'll be alright'."
In a Facebook post Caccioppoli's daughter Bianka-Lee Bryan described her mother as a cheerful, welcoming, and kind constant who was available to everyone at any time for a coffee, a chat and a laugh.
"She will be remembered as a devoted and protective mother, oma, daughter and sister, with so much love to give," Bryan said in the emotional tribute.
"She was gifted with a voice of an angel, blessing everyone at the local country music club for many years. She was always happiest when with her family."
Take your Radio, Podcasts and Music with you