'It's insane': Queues outside gun shop ahead of lockdown
Author

Publish Date

Tue, 24 Mar 2020, 12:25pm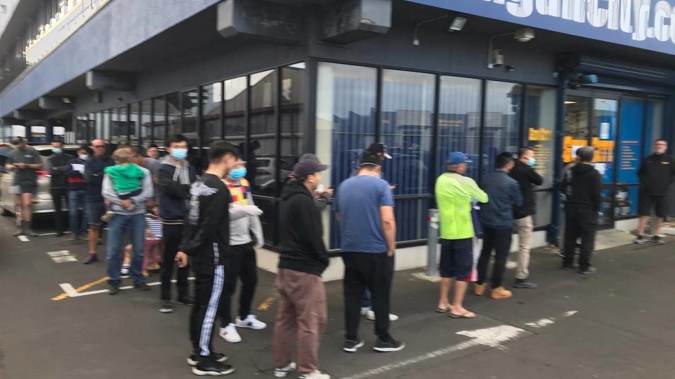 'It's insane': Queues outside gun shop ahead of lockdown
Author

Publish Date

Tue, 24 Mar 2020, 12:25pm
Food and liquor aren't the only items that Kiwis are rushing to buy today, with a long queue of people outside an Auckland gun shop before it opened this morning.
The queue outside Gun City in Penrose started before the store opened at 9am, with a local business owner estimating between 20-30 people were waiting.
He told the Herald he had never seen queues outside the business.
That number grew after the doors opened and the local business owner says he called police, concerned by the group and he was feeling unsafe.
He told the Herald that police advised him to ask customers to move on if he was concerned, though they had a legal right to be there.
He said that on asking them to move he received an unfriendly response and said it was "like poking a bear".
The queue formed before the store opened. Photo / Supplied
"Seriously, this is not the time to buy guns," he said.
He told the Herald he was "all for freedom" but said the group shouldn't be buying guns "at a time like this".
He said guns were the last thing Kiwis needed to buy, "less than toilet paper, really".
He told the Herald he had never had issues with Gun City or its customers in the past.
The local business owner said that customers appeared to be making large purchases, with one man walking out with as much ammunition as he could carry, labelling the purchase "insane".
A police spokesperson told the Herald that they are currently monitoring the situation.
"Police attended this morning between 7am and 8am, and provided reassurance advice to both members of public and staff at the store," they said.
"Our priority as Police is to keep all New Zealanders safe, and we want to remind people not to panic in this unprecedented time, maintain a safe distance from others, look after one another and stay safe."
The Herald has contacted Gun City for comment.