Coronavirus: Community transmission suspected as NZ records 36 news cases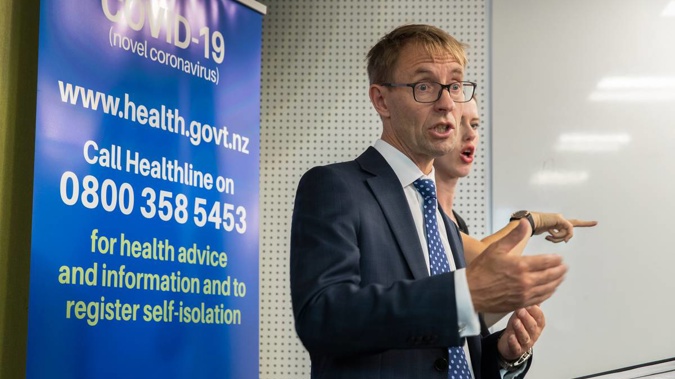 Coronavirus: Community transmission suspected as NZ records 36 news cases
New Zealand has 36 new confirmed cases of coronavirus today.
This takes the total number of cases in this country to 102.
"I would expect to see more cases each day," Director-General of Health Ashley Bloomfield told reporters this afternoon.
There were 1100-1500 tests being done each day. About 1-2 per cent of those were coming back positive - which was comparatively low compared to other countries suggesting our rate of testing is reasonably high, he said,
Over half of today's 36 new cases were directly linked to overseas travel - people who have returned to New Zealand recently.
Most of the remainder are close contacts of previously concerned cases or associated with events where there were confirmed cases.
There still remain two where it's not clear where the infection came from.
The Prime Minister will update the alert level later today.
Contact tracing for all cases is ongoing.
Bloomfield said authorities were expecting to find these cases because so many people were returning from around the world from places where Covid-19 was common.
Just over 1200 lab tests were carried out yesterday - bringing the total to more than 7400.
While most cases are still people who have come from overseas, an increasing number of cases were close contacts of those people, Bloomfield said.
He added that hygiene practices, physical distancing and staying home if you are unwell are becoming increasingly important.
The two cases of suspected community transmission are in Auckland and Wairarapa. The Auckland case is a different one from that discussed on Friday - Friday's case has since been linked to that person's partner.
Healthline's capacity is continuing to increase - the average waiting time yesterday was 30 minutes, Bloomfield said. More staff have been brought on board and other government helplines have also been linked in.
Healthline should only be used to ask about your health. If you have an urgent medical issue, call your GP and get advice there, Bloomfield stressed.
Prime Minister Jacinda Ardern will be updating the public on alert levels at 1.30pm today, he said.
DHBs have plans in place on how to scale down activity - especially elective operations and outpatient appointments - to free up capacity and staff if more people need hospital level care.
That doesn't mean people won't be seen if they need care - but many outpatient appointments could be done via phone calls rather than face to face.
Most hospitals are also restricting visitors, he said.