Controversial Filipino President arrives in NZ
Author

Publish Date

Tue, 22 Nov 2016, 11:33am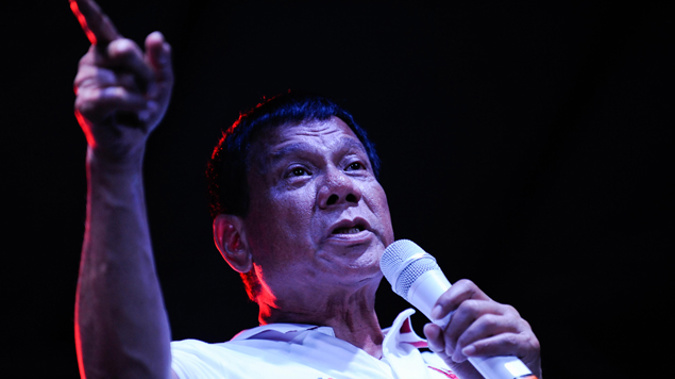 Controversial Filipino President arrives in NZ
Author

Publish Date

Tue, 22 Nov 2016, 11:33am
The Philippines' President Rodrigo Duterte arrived in Auckland this morning where he will spend one night before returning to the Philippines.
Prime Minister John Key's office confirmed that Duterte is on transit here after the Asia Pacific Economic Cooperation (APEC) summit in Peru.
"It is not an official visit so he doesn't have any official meetings as such," said chief press secretary Julie Ash.
Duterte, 71, has had a frosty relationship with Obama and the U.S. government since US officials expressed reservations about his anti-drug war, which is thought to have left more than 4,000 people dead since July.
He has told Obama to "go to hell" and announced his "separation" from America, his country's treaty ally, during a state visit to China last month.
Duterte later said he meant he wanted to chart a foreign policy that would not lean excessively on America.
His push away from Washington has been accompanied by approaches to China and Russia.
Known as 'The Punisher', Duterte took office on June 30 and has promised to kill more than 100,000 drug users and fill Manila Bay with their bodies. He directed police to launch a massive new anti-drug operation nationwide called "Double Barrel".
The bodies of dealers and addicts have since been turning up in cities across the Philippines. Police statistics show a surge in the number of drug suspects shot dead by security forces, but vigilantes appear to have killed significantly more.
Before the Apec trip, Philippine deputy Cabinet secretary Peter Tiu Lavina acknowledged the possibility of a New Zealand visit in a Facebook post outlining Duterte's recent travel movements.
"He may stop over in New Zealand to extend our vigorous efforts to build friendship among nations down to the south Pacific region," the post read.
International media have speculated that Duterte's unusual route to Apec could have been settled upon to avoid landing in the US.
An airport source said Duterte arrived this morning "without fanfare" accompanied by security officials who escorted him to his vehicle.
The Herald has also confirmed that the president is ordering a Filipino banquet meal to be served in his meal.