Colin Craig and Cameron Slater clash in courtroom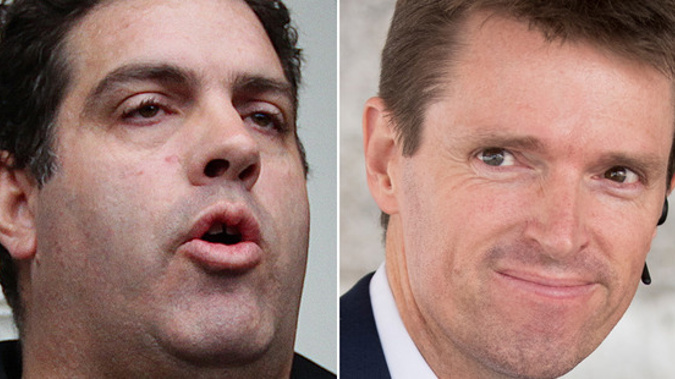 Colin Craig and Cameron Slater clash in courtroom
Blogger Cameron Slater has told former Conservative Party leader Colin Craig the hypocrisy of politicians' personal lives is fair game for the media as the pair face off in court.

Whale Oil founder Slater, in a series of posts in 2015, alleged former Conservative Party leader Mr Craig sexually harassed his former press secretary Rachel MacGregor.

Ms MacGregor resigned suddenly two days before the 2014 election, having worked closely with Mr Craig from about the time he founded the Conservative Party three years earlier.

Mr Craig is suing Slater for defamation over his blog posts, while Slater is counter-suing Mr Craig over allegations the former politician made in a 12-page pamphlet he sent to 1.6 million homes trying to defend himself.

Slater said he was just doing his job as a journalist when he posted the allegations.

Under cross-examination by Mr Craig - who is representing himself - at the High Court at Auckland on Wednesday, Slater said the personal affairs of politicians needed to be exposed if they reflected hypocrisy.

"If you put yourself in public, then yes, you get a free hit. But (journalists) have to stay within bounds of law. You have to tell the truth," he said.

"But just because someone doesn't like what's being said about them, doesn't mean it's defamatory."

Plenty of legal cases around the world suggested there was a "free-for-all on politicians", he said.

Slater said he was happy to admit that he wore his political positions like "badges", telling the court he thought it was more honest than journalists not disclosing their biases.

Responding to a long series of questions, he also provided a string of opinions and criticism about numerous notable New Zealand journalists and the mainstream media, and talked at length about the high readership of his blog, saying "the stats show I'm a winner".

"The numbers reflect the content. It's content that's relevant to readers. It's daylight between me and second," he said.

The judge alone trial continues.