Civil Defence to test mobile warning system after early stuff up
Author

Publish Date

Sun, 12 Nov 2017, 7:26AM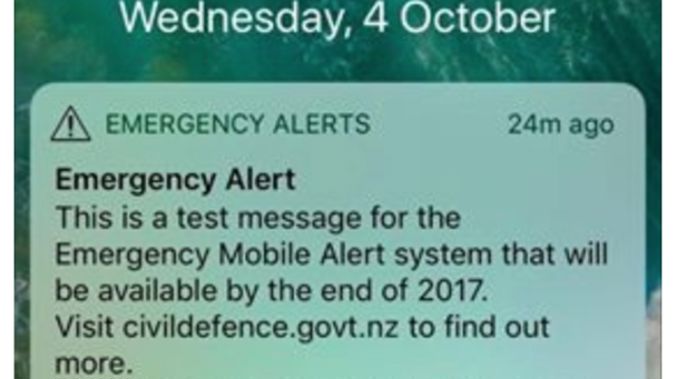 Civil Defence to test mobile warning system after early stuff up
Author

Publish Date

Sun, 12 Nov 2017, 7:26AM
Civil Defence is getting out an early warning about plans to test the new mobile emergency alert system.
It'll be put through its paces two weeks from today, and there's a promise there'll be no rude awakening this time.
Test messages were accidentally sent out between 1 and 2 in the morning last month.
The system will send this test sound between 6pm and 7pm on Sunday 26th.
Enabled phones will emit a penetrating warning sound, and a test warning message.
Civil Defence said about a third of phones are capable of receiving the alerts, which are sent using cell broadcast technology.
There's no need to sign up or download an app, though you can't opt out.
Civil Defence Minister Kris Faafoi warns that not everyone will get them.
"About 30 per cent of phones, or about two million phones, will be able to get them. Over time over the next three years we think that will get through to about 70 per cent."
Faafoi is asking those who can receive them to spread the word - in a real emergency.
"Our request is that they let their neighbours know, they let their whanua know and they let anyone else know."
Faafoi said the warning is another important warning tool, along with the likes of radio and TV broadcasts.