City Missions expecting big Christmas lunch crowds
Author

Section

Publish Date

Friday, 25 December 2015, 7:15a.m.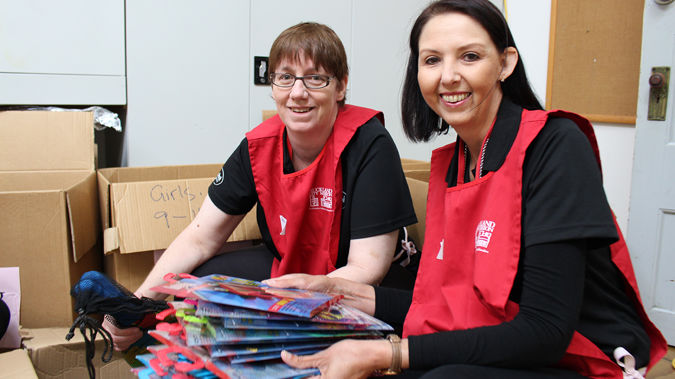 The Auckland City Mission is expected to host around 2500 people at its annual Christmas lunch at the Viaduct Events Centre today.
Doors open at 11:30am.
Hundreds of volunteers will be there decorating the venue and serving dinner and dessert, including 2000 chicken drumsticks, 300 kilograms of ham, and 300 kilograms of potatoes.
One of those volunteers, Ken Samson, says the idea is to make the Events Centre as colourful as possible.
"There's an enthusiasm amongst all the volunteers, there's a great attitude, there's a buzz in the air and I think the whole day is just one of total festivity, it's a wonderful day."
He says there's a limit of what they can do, but everyone there will get fed and will receive a present.
"No one will be turned away and there will be meals given to people who do come along, and we can probably work from an outside venue, outside the doors."
Mr Samson, who's been volunteering at the annual lunch for over 20 years, says he gets a lot out of the day.
"If you come down and you see the people who do volunteer and the amount of pleasure they get from giving up Christmas Day in most cases just to help others, it's pretty magic."
Meanwhile a delicious lunch is awaiting over 600 guests at the Christchurch City Mission today.
The charity's biggest day has arrived, after months of organisation and preparation.
There's tables as far as the eye can see, laden with all of the traditional trimmings and treats for the charity's annual lunch.
City Missioner Michael Gorman said they have a wonderful array of treats.
"It's very wonderful, today on the menu there's lamb and ham and salad, there's brandy snaps, christmas mince pies, wonderful looking pavlovas and soft drinks and chocolates so I think people should have a really good meal."
Mr Gorman said it's been a tough year for many Cantabrians, and the lunch is a way to bring people together to forget.
The lunch is a way for families and those less fortunate to enjoy the spirit of Christmas.
Meanwhile Christchurch children enjoying the City Mission's special Christmas Day lunch are in for a big surprise.
Mr Gorman said Santa will soon make an appearance.
"He'll be due soon and he'll have his usual supply of toys, the excitement is growing as it is getting closer to his arrival."