Foodbank spike in demand shocks volunteer
Author

Publish Date

Mon, 20 Nov 2023, 4:53PM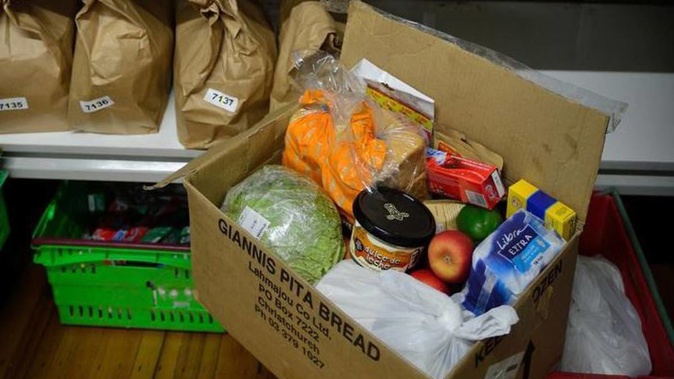 Foodbank spike in demand shocks volunteer
Author

Publish Date

Mon, 20 Nov 2023, 4:53PM
"All people struggle" was the one lesson Shirley MacLean has learned from her time volunteering at Tauranga Community Foodbank.
She started at the foodbank last Christmas and says "the size of the help that's needed has been a shock, especially around this time of year".
The foodbank, which works to feed thousands of people nutritious food, is seeing a record number of referrals this year.
The cost-of-living crisis is to blame, with the foodbank noting a 33 per cent increase in food parcels from the year before.
It comes as the Bay of Plenty Times launches its six-week annual Christmas Appeal for the foodbank.
A survey in May by the New Zealand Food Network (NZFN) showed foodbanks are feeding 165 per cent more people than before the pandemic began.
MacLean said she noticed a "horrendous" increase in food parcels "month after month" with $20,012 spent per month on staple foods, compared to $14,758 a month the year before.
Monthly referrals to the foodbank have been steadily climbing, with 1700 parcels in August, 1900 in September and a record 2087 households fed in October.
According to Statistics New Zealand, the average household experienced a 7.4 per cent rise in living costs in the year to September.
Interest payments and groceries were the biggest contributors to the 7.4 per cent increase.
Annual food prices had an 8.9 per cent increase from August 2022 to August 2023, with a 10.6 per cent increase in grocery food, an 8 per cent increase in meat, poultry, and fish prices, and a 5.4 per cent increase in fruit and vegetables.
"It's not any particular group of people that struggle," MacLean said.
She said she liked that the foodbank gave to everyone and it was "treated with respect and dignity".
MacLean said her favourite part of volunteering was she could see the impact she was making first hand and "it's just lovely to see that people are smiling".

Tauranga Community Foodbank manager Nicki Goodwin. Photo / Alex Cairns
Foodbank manager Nicki Goodwin said, "Food is such a basic necessity and when you don't have that, it's hard to imagine."
"We had our volunteers do a delivery today and the lady, she couldn't stop hugging them, she was just so grateful".
Goodwin said Christmas was challenging for families who did not have the support of school food programmes.
Many businesses shutting down meant people were left with no income while still having to feed their families.
Goodwin said the foodbank had been anticipating the increased need for support during this time, especially with the cost-of-living crisis.
"The challenge is making sure that we've got the ability to source the food and have the volunteers.
"We are lucky to say we are a very solid charity thanks to community support over the years".
Community support is "vitally important" and can be done in either food or cash donations.
"Food donations mean we can give items that are not in our budget to purchase, like treats or personal-care items.
"Cash donations keep us going into the new year and means we are able to purchase all the staple food.
"Our focus is on providing good food and helping people through those stressful, traumatic times."
Volunteer Lisa Stewart said people were generous with their donations.
She said a lady had been donating Christmas gift bags every year for more than 20 years — the gifts often included handmade crocheted items.
"People bring things from their garden too, it's so kind."
Tauranga Community Foodbank wishlist 2023
Treats
Cereal
Spreads
Nappies: Size 4, 5, 6
Drinking chocolate and coffee
Muesli bars
Canned fruit
Tinned fish
Any items are welcome, even if they're not on the list.
Take your Radio, Podcasts and Music with you