Call for Hamilton to Auckland commuters to get on board rail service
Author

Publish Date

Fri, 12 May 2017, 11:20AM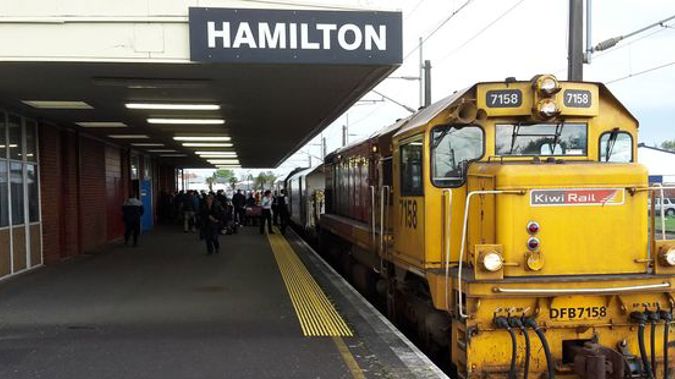 Call for Hamilton to Auckland commuters to get on board rail service
Author

Publish Date

Fri, 12 May 2017, 11:20AM
THIS ARTICLE WAS PUBLISHED BY HAMILTON NEWS ON FRIDAY, MAY 5TH
Proponents for the establishment of a commuter rail service between Hamilton and Auckland will need to bridge political gaps and unite if the initiative is to gain traction, it emerged last Sunday.
Community group The Rail Opportunity Network (TRON) held a meeting earlier this month in the historic Frankton Hotel adjacent to the railway line the train would traverse as it left Hamilton heading for Auckland - if it came to be a reality.
TRON is a collective of people from a range of backgrounds who have all expressed ongoing interest in bringing the intercity train into operation.
Engineers, railway staff, politicians, tourism organisations and health and safety experts have all entered the ring in support of the service.
Susan Trodden, spokesperson for TRON, was among the key organisers of the discussion.
There was a large turnout, including members of the public, Hamilton business owners and numerous local political representatives.
"It's quite important we have a good roundtable community discussion on this," Hamilton city councillor Dave Macpherson said as he spoke on the discussion panel, emphasising that the train should not become party political.
"The growth in the Waikato, from Hamilton north to Tuakau, is phenomenal at the moment and is going to be phenomenal for some years to come."
Macpherson noted expanding and upcoming residential developments in Pokeno, Mercer, Huntly and Te Kauwhata which he said would all increase the pressure on Stage Highway 1 and the need for a train service to those areas, which could double in benefit to link Hamilton with Auckland.
"A lot of the planners in this area and nationally are actually way behind the 8-ball there. We're seeing figures coming forward from supposedly reputable planners to the Waikato District Health Board saying the population in Hamilton is only 147,000 at the moment - it was that seven or eight years ago," Macpherson said.
"This is not to have a shot at planners - I always like doing that. This is to say the problem is getting worse or more extreme faster than we ever thought possible five years ago."
Labour list MP Sue Moroney agreed with Macpherson's metaphorical description of "the Drury Parking Lot" - with Drury in the far south of Auckland currently being the choke point where the worst of the local and intercity traffic begins to compound.
"Can I just say, from the outset, can we just learn from Auckland's mistakes?" Moroney said.
"This is the opportunity that we have here in Hamilton, is to not go down that path of Auckland - of not doing things in a timely fashion, looking the other way, pretending it's not coming, and therefore missing the opportunity to get the right infrastructure at the right time."
She said she had been campaigning for the Hamilton-Auckland rail service for 10 years, and that it was a "no-brainer" back then in the same way that it is now.
Moroney also pointed out that it now takes longer to travel between the CBDs of Hamilton and Auckland, despite $1.7 billion spent on the Waikato Expressway to try and make the trip smoother.
"The only mode that can get through rush hour traffic is a train," she said.
Tim Kerwin, Waikato rail branch secretary for the Rail and Maritime Transport Union, said the service would be easy to set up.
"From a technical perspective, the infrastructure for what we need to do is there right now," Mr Kerwin said.
More than 100 former Auckland suburban rail carriages, purchased from the UK and refurbished in New Zealand, are currently sitting in storage in the rail yard in Taumarunui after a failed sale to an African country, which Kerwin noted could easily be refitted again to suit a Hamilton-Auckland train.
The carriages are in good, operable condition, but became excess to Auckland Transport's needs during the roll-out of the city's new electric trains.
"The foundation and the bones for this is already there and it's not a hard thing to get underway," said Kerwin.
Support came from the other side of the political spectrum, too, with National MP Tim Macindoe - MP for Hamilton West since 2008 - conservatively expressing his support.
"As a fan of commuter rail, it's something I want to see happen," Mr Macindoe said.
"There are different options that can be looked at here. I am here today because I want to be part of this conversation. I absolutely agree with Dave Macpherson's point that it would be a shame if this became party political, because I think it would be far more important for our region to have a cross-party approach."
Mayor Andrew King said the service was essential for the future, and should happen as long as central government as well as Auckland Council will give financial support given the mutual benefits.